Francisco González: "Branches will continue to play an important role for a long time"
BBVA Executive Chairman Francisco González visited a branch in Barcelona to learn firsthand from some of the Group's employees about how the business and customer relations are progressing during his visit to Catalonia. At a meeting with employees, Francisco González underscored what an important role the branch network plays for the bank.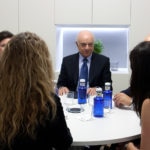 On his trip after the integration of CatalunyaCaixa, Francisco González also visited theTerritorial Directorate of Catalonia, located in Tarrasa, and the Territorial Directorate of Barcelona. Accompanied by Cristina de Parias, Head of BBVA Spain, he met with 280 employees who represented the Catalonian workforce. During the gathering he was able to share his vision of the business, the challenges facing BBVA Spain and the headway made in the transformation process.
"Branches will continue to play an important role for long time, although obviously their role is going to change," said Francisco González in his talk with the employees. "It is crucial that the branches do things that add value and that mean a more personal relationship."
BBVA Executive Chairman Francisco González at branch in Barcelona
BBVA's executive chairman emphasized the bank's strong commitment to Catalonia, which contributes 19% of GDP and 26% of exports in Spain. It is region that accounts for a significant chunk of BBVA's business in Spain. After the acquisition of UNNIM and CatalunyaCaixa, BBVA's market share in Catalonia now stands at 25%, with over 3 million customers.
Banking activities in Spain generated a profit of 936 million euros in the first nine months of the year, once again proving to be very resilient in an environment complicated by extremely low interest rates, according to the results the bank released yesterday.