Francisco González given Corporate Leadership Award by Vocento publishing group
BBVA's Group Executive Chairman was given the Vocento Corporate Leadership Award for his career achievements. Vocento recognized Francisco González as  a "corporate leader with numerous accomplishments who saw the emergence of digitization in our lives as an opportunity, and decided to turn the bank into a digital company."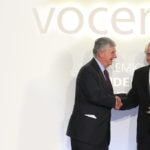 Francisco González, who has been Group Executive Chairman of BBVA since 2000, began his career as a programmer in an IT company. His ambition to transform banking with new technologies dates back to that time. Today, BBVA is a global financial group with a presence in more than 30 countries and a customer-oriented retail business model that has become a benchmark for the transformation of the financial industry.
"We believe that a company's success is based on two things: first, having a very clear vision and strategy of where it wants to go and persevering in this strategy; and second, executing this strategy with strong principles," Francisco González said at the award ceremony. He also took the opportunity to review BBVA's transformation process. "We've made a lot of progress and we've also made mistakes, but we have accomplished something that is very important: learning from those mistakes. And in the past three years, we have made a great deal of progress in giving substance to the digital concept," which he defined as, "giving customers new products in real time."
Francisco González received the Vocento award, together with two other executives, Pablo Isla of Inditex and José Ignacio Sánchez Galán of Iberdrola. This is the first edition of the awards, which were presented in commemoration of Vocento's 15th anniversary. Vocento is a communications group that includes the newspaper ABC, as well as several prominent regional newspapers. The awards recognize the professional efforts of people who over the past 15 years have successfully led and continue to lead companies that help address the challenges facing society in Spain and around the world.