Garanti Bank's online banking service was named second best in Europe by Forrester, one of the most influential research and advisory firms in the world. The Turkish bank also earned a best-in-class mention for facilitating daily banking operations, such as viewing recent transactions, checking account balances or moving money.
BBVA Spain's online banking service earned the highest overall score with 90/100. The BBVA Group – Garanti's leading stakeholder – secured the two top-spots in Forrester's 2017 online banking services benchmark.
Forrester's "2017 European Online Banking Functionality Benchmark" evaluates the functionalities of digital banking and the security of the websites of 13 European retail banks. In the overall classification, which covers eight categories, Garanti Bank holds second place, with a score of 87 out of 100, second only to BBVA. According to the same benchmark, the best U.S. and Canadian banks scored a maximum of 86/100.
Derek White, BBVA's Global Head of Customer and Clients Solutions, said: "Garanti Bank continuously breaks new ground for its customers and clients, and this award from Forrester is another fantastic example of the bank's focus on delivering excellence for those who bank with it."
He added: "Across the wider BBVA group, we are committed to developing the very best digital banking services and platforms anywhere in the world, and Garanti and its huge array of talent and expertise is a key driver to our realizing that ambition."
Garanti took first place (85 out of 100 points) in the category that recognizes the ease an online bank provides to its customers in locating, quickly and easily, the main functionalities of the bank's transactional website. In this case, Forrester acknowledged, for example, the presence of a "timeline" that includes past and future transactions, on the homepage of the account of each customer.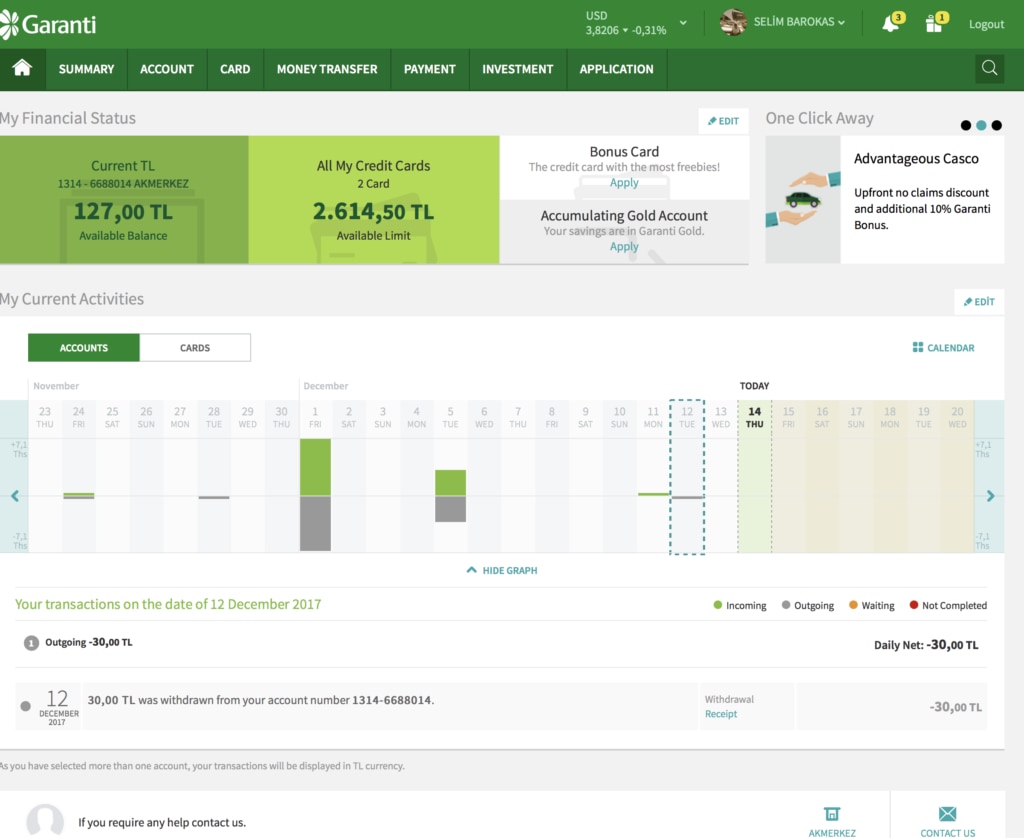 Garanti offers on its website a 'timeline' or calendar that includes past and future transactions on the home page of each client's account.
Didem Dinçer Başer, Garanti's Executive Vice President responsible for Digital Banking said: "Garanti has been a pioneer in digital banking in the Turkish banking sector for more than 20 years and will always continue to take steps forward in both local and global scope. We also received the highest overall score for mobile banking in Forrester Report entitled "Global Mobile Banking Functionality Benchmark" in 2014.
"And now we are glad that we have again been appreciated by the results of Forrester's most recent online banking benchmark and strongly believe that we still have a lot to achieve in the future. As a bank that drives digital transformation in the banking sector, we will continue to develop digital products and services to ease our customers' experience."
Garanti also leads, with a perfect score of 100/100 (in this case, alongside Caixabank, Intesa Sanpaolo and mBank) the category of marketing and sales of additional products for customers. Thanks to its commitment to digital banking, Garanti promotes the cross sale of relevant products, through the identification and personalization of services in the customer's existing portfolio.
Garanti also scored above average in categories related to helping customers develop healthy financial habits (90 out of 100). According to Forrester, apart from establishing savings goals and automatic transfers, Garanti's website provides great help in everything related to customers' tax statements (81 out of 100), as it offers a set of services for preparing and filing fiscal documents.