Garanti BBVA delivers locally-made ventilators to new emergency field hospitals in Turkey
BBVA's Turkish unit is on the frontlines in the fight against the coronavirus pandemic. Emergency field hospitals in Sancaktepe and at the Atatürk airport have received locally manufactured medical equipment.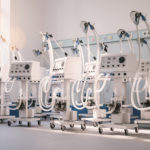 Last month, Garanti BBVA announced that, as a donation to the country's Health Ministry, the bank would import 200 ventilators to be used to help patients fight COVID-19. Imports of this kind of medical equipment are no longer necessary thanks to progress in domestic production in Turkey, which has prompted Garanti BBVA to re-allocate its purchase from local vendors.
Garanti BBVA thus plans to source 500 ventilators manufactured in Turkey to be supplied to local hospitals. In the first phase, 100 units will be delivered to the Prof. Dr. Feriha Öz field hospital in Sancaktepe, and another 100 to the emergency field hospital Prof. Dr. Murat Dilmener, both recently opened. The rest of the ventilators will be earmarked for those hospitals in need according to the production plan.
According to Recep Baştuğ, Garanti BBVA CEO, "as a country we have been tackling with and confronting the global pandemic with great effort led by the government, and complemented by a deep sense of national solidarity." Within this context, the Garanti BBVA CEO stressed "strict measures and our strong medical infrastructure have allowed us to begin the conversation about normalization. Nonetheless, we are aware that we need to remain cautious."
Recep Baştuğ explained that the bank opted for nationally manufactured ventilators
Baştuğ reiterated that Garanti BBVA has supported the fight against the pandemic from the onset. Specifically, this support includes the plan to donate ventilators to the Health Ministry, a plan announced in April. "During this time, our country has taken important steps to address the pandemic: while two field hospitals were being constructed in Istanbul, the production of locally manufactured ventilators got underway, representing a huge step in the treatment of the disease," he said.
The BBVA Garanti CEO explained that instead of purchasing the ventilators abroad, the bank opted for domestically manufactured ventilators, production of which has already started and sped up successfully. "Thus, the total number of ventilators supplied by Garanti BBVA now stands at 500 units, and in addition, we have the opportunity to contribute to local production activity," Baştuğ explained.
In the first phase, 100 ventilators will be delivered to each of the two field hospitals in Istanbul — the emergency hospitals at Sancaktepe and the Atatürk airport, both built in record time. "The fact that these hospitals will use our local ventilators is a point of pride. "We hope that, as this experience has underscored just how important nationally produced healthcare and scientific research equipment is, the spirit of solidarity demonstrated throughout the country will continue and we will soon see a return to healthy days."