Garanti BBVA's Recep Bastug analyzes the economic impact of the coronavirus during CEO Club Summit
Organized by the economic magazines, 'Capital' and 'Ekonomist,' CEO Club Summit is the premier business event in Turkey, and for the first time, it was held virtually as a precaution against COVID-19. Garanti BBVA CEO Recep Bastug was on hand to participate.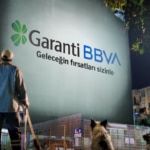 The BBVA senior executive joined other experts in analyzing the effects of the coronavirus pandemic on the economy in general and the banking industry specifically. He also talked about the steps Garanti BBVA has taken to ensure adequate measures are in place. According to Bastug, "we must avoid short-term, knee-jerk reactions and must be level-headed in our management of the situation. We need to reduce costs and focus on productivity, but without losing sight of the fact that human lives are the most important priority."
In situations like the present, the financial services industry proves itself to be a cornerstone of support for local communities and society in general. Recep Bastug points out the Garanti BBVA has been well positioned to respond to the authorities' recommendations discouraging visits to bank branches: For years Garanti BBVA has been investing significant resources in its digital channels in order to be more accessible to its customers. As a result, 99 percent of its non-financial services are offered online, a particularly pertinent fact during the current pandemic.
Recep Bastug also referred to measures put in place that allow customers to stay at home and complete "branchless" transactions. He pointed out that the number of customers that use the bank's branch offices has fallen by 50 percent during the pandemic, whereas the use of its digital channels has seen an equivalent increase.
The Garanti BBVA response plan was one of a greater set of measures implemented by BBVA worldwide. Consequently, Garanti BBVA was able to benefit from BBVA Group's experience and act more quickly than other banks in Turkey. Bastug indicated that a majority of branch employees had begun to work from home without jeopardizing continued and uninterrupted service. "Our goal is to further increase the number of employees who work from home. During this time, our customers are more important than any service. Turkey's banking sector has known how to overcome very difficult situations. This time will be no different."