Garanti BBVA reaffirms its environmental commitment on the 10th anniversary of CDP
CDP, the world's leading environmental information platform, celebrates a decade in Turkey. Garanti BBVA is one of the platform's key partners in the country. The organization recently held the 'Turkish CDP Climate Leadership' award conference to recognize the environmental efforts of the country's businesses.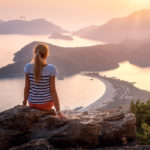 Speaking at the event, Garanti BBVA Executive Vice President Ebru Dildar Edin shone the spotlight on the links that BBVA's Turkish subsidiary and CDP have been building since the non-profit launched operations in the country in 2010. The executive vice president noted that at Garanti BBVA "we have been pioneers in responding to transparency in environmental issues," as reflected in the commitment to observe the 2014 Sustainability Policy, as a result of which the bank's embedded the climate strategy into all of the bank's processes.
Dildar Edin explained that the bank is currently adopting measures to minimize the social and environmental impact of its financial activities. "We contribute with 42 sustainable products and services to move beyond just raising awareness among our customers and actively promote actions," she added.
We contribute with 42 sustainable products and services to move beyond
In fact, Garanti BBVA has set out to cut its carbon emissions by 71 percent by 2035. "We are contributing to Turkey's transition towards a low carbon economic model and to the country's fight against climate change, with strategies that seek to both minimize our operations' environmental impact and to foster innovative financing models to encourage our clients and customers to implement more sustainable work models," said Dildar Edin.
Paradigm shift
The executive also shared her insights into the new challenges posed by the health crisis. "As much as global emissions may drop due to the pandemic, consumption of single-use plastics is on track to set a new record. As long as our negative impact on the ecosystem remains at the current pace, we will continue to see epidemics like the present one, or similar ones, in the future," she said.
In this sense, she warned about the risks of not embracing change in the transition to the post-pandemic new normal. "If we make the mistake of going back to our old, linear economic model, exclusively focused on growth and profits, we will waste at least two to three years. And all this wasted time will force us to make much more radical and difficult decisions later."
To conclude, Ebru Dildar Edin took the opportunity to thank all the companies that support CDP Turkey's work with their reports. "In the business world, we have a responsibility to learn from our mistakes and take action all together without wasting a minute."