Garanti BBVA and its subsidiaries have been recognized by Kincentric as the 'Best Employer 2020' in Turkey. The bank received three out of four awards, making the bank and its subsidiaries the best place to work.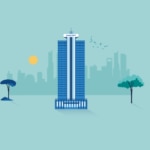 Didem Dinçer Başer, Executive Vice President of Garanti BBVA, thanked Kincentric forits decision to recognize the bank and its subsidiaries with three out of the four awards presented in Turkey, and therefore for being selected as the best place to work in the country.
The award shows that the bank's employees are satisfied with the process of joining the company, as well as their subsequent experiences. " Our employees are a central part of our operations, so we work relentlessly to take measures that make them feel like part of our structure, that have a positive influence on their lives, and that make them happy.
We can't think of a clearer sign of the importance we give to our human resources policy," she added. In addition, the vice president explained that the bank continues to take necessary steps to face the challenges of the future and be an organization where the people with the best skills want to work. For this reason, and also so that bank employees can work in the best possible conditions, Garanti BBVA creates a work environment that reduces the impact of possible changes to a minimum, she concluded.
'Best Employers' Program
Kincentric is one of the largest companies worldwide in the human resources and management areas. The company launched the 'Best Employers' (Best place to work)program more than 20 years ago, and has included Turkey since 2006. It stands out for being the workplace analysis with the most participants in the country. Some of the criteria used to make this decision include the dedication of employees and their agility; having a leadership structure that helps to build connections; and an energetic, dynamic and technological work culture focused on talent development.