Garanti BBVA shares expertise that leads to employee success
Garanti BBVA participated alongside other leading Turkish organizations in the recent Internal Communication Summit organized by HR Magazine. BBVA Garanti director of Talent & Culture Sibel Inal Kaya shared her expertise and insight into best practices, outlining the key elements for effective internal communication management.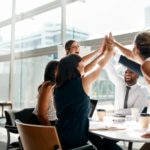 Kaya stressed that the human factor is as essential as ever if we are to create an employee-centric communication approach, and lauded the individuals who make employee communications work: "The Talent & Culture business partners are on the frontend of the business; these individuals have a strategic vision of what it means to be employee-centric."
The BBVA Garanti expert referenced Deloitte's 2019 Business Partner report, which confirms the importance of the human factor as advocated by the bank's human resource group. "Business partners are expected to accompany employees on their professional journey. They serve as ambassadors of an organization's corporate culture, building trust along the way, and demonstrating their ability to guide employees along a path of career development," Kaya explained.
Kaya explained that that we are immersed in a world where, indeed, the only constant is change: as the world has changed, the bank has embraced transformation in order to better deliver on its promises. Both the business model and the corporate culture has moved forward in step with the transformation. The bank's way of working has also had to adapt.
According to the executive, Garanti BBVA has recognized that it must provide individual employee-tailored professional development paths. To this end, it has committed to offering a professional development model aligned to the changing landscape in order to prepare its employees to take advantage of the new age of opportunity.
BBVA Garanti's Sibel Inal Kaya during her presentation.