For the tenth consecutive year, Garanti BBVA was presented the award for the Best Trade Finance Bank by Global Finance magazine. This award confirms yet again Garanti BBVA's experience and leadership offering its clients unique solutions in the trade finance field.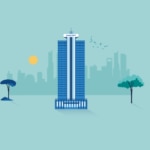 Garanti BBVA Executive Vice President Ebru Dildar Edin said: "Thanks to our extensive experience in trade finance and the support the BBVA Group provides, we are a bank that helps our exporters open new markets and develop business relations in other countries. Our innovative solutions support companies that are preparing to export and import and cover all types of our clients' foreign trade needs."
The bank's important international connections allow it to offer a wide range of financing sources, which are renewed every year for companies involved in foreign trade.
Edin stressed that, "We are thrilled to receive the award for the Best Trade Finance Bank in Turkey once again from such an important international platform like Global Finance. We will continue to be the preferred bank for foreign trade clients, which represent an immense contribution to the country's economy."