Garanti launches a campaign to support the Turkish national basketball teams
Garanti Bank, official sponsor of Turkish basketball for more than 17 years, has launched an advertising campaign to support the Turkish national basketball teams, facing the wheelchair basketball world championships that will take place in Hamburg (Germany) from August 16 to 26.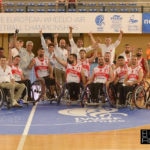 Garanti has adopted the idea of the 'high-five' – a symbol widely accepted by players and fans alike, across all fields of sport, for spreading motivation, sharing joy, and inspiring teamwork – and is using it in the national basketball campaign with the slogan, ÇakBiBeşlik (High-Five). Garanti's new campaign calls on the entire nation to come together in a show of support for Turkish national basketball teams during the World Championships.
The first advertisement of the campaign will air in Hamburg coinciding with the 13th World Wheelchair Basketball Championships that will take place between August 16th and 26th. In its campaign, Garanti uses videos with the "ÇakBiBeşlik" hashtag to invite basketball fans to support the tem by sharing high fives.
The campaign will continue with a commercial for the "Pixies of the Court" where Garanti will invite everyone to use the #ÇakBiBeşlik hashtag to support the Turkish women's senior national basketball team, which will compete in the International Basketball Federation's Women's Basketball World Cup between September 22-30, 2018 in Tenerife (Spain).