Spanish tennis star Garbiñe Muguruza has achieved one of her lifelong dreams: she has become the top-ranked tennis player in the world.  The title became hers after Karolina Plisková of the Czech Republic was defeated by CoCo Vandewehe of the United States (7-6 (4) y 6-3) in the quarterfinals of the U.S. Open on Sept 6. Garbiñe will be officially crowned the world's number one tennis player when the Women's Tennis Association (WTA) publishes its updated ranking on Sept. 11.
Although she was eliminated in the round of sixteen, Garbiñe received a final surprise during the U.S. Open.  Pliskova´s defeat allowed Muguruza to occupy the number one place in the world ranking. The BBVA ambassador thus became the second Spanish female player to reach the pinnacle of world tennis, during what has become her best season. The first to achieve this goal was Arantxa Sánchez-Vicario, who in 1995 headed the ranking for 12 weeks. Spain will rack up another achievement: for the first time in its history, the country will lead both the male and female categories. Garbiñe Muguruza and Rafael Nadal will share the highest peak of world tennis.
Although only 23 years old, Garbiñe has won victories in two Grand Slam tournaments: Wimbledon and Roland  Garros, where she became the fifth tennis player in history to defeat Serena Williams in a grand finale. During the current season, she has won the titles at Wimbledon and Cincinnati and reached the semifinals in Brisbane, Birmingham and Stanford. Along with Venus Williams, Muguruza is the only tennis player to pass the second round in all the Grand Slams of the season.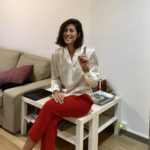 "I'm very happy about being the next number one," Garbiñe said, upon hearing the news. "The fact is, it´s a very special moment. You always dream about this moment but it´s one of those things that you keep to yourself. At every birthday party, when you blow out the candles, your wish is always the same  - to become the best. And now that wish has come true."
The BBVA ambassador is already preparing for the final stage of the season, which includes the tournaments in Tokyo, Wuhan and Peking. She will also play for the third time at the Masters' Cup in Singapore. Without a doubt, Garbiñe is experiencing one the best moments in her career. Her recently achieved number one is the proof of it.