Garbiñe Muguruza: "I love Australia. This is where I won my first main draw match"
Garbiñe Muguruza is ready for the first Grand Slam of the season. Still recovering from the adductor strain that forced her to retire in Brisbane, the Spaniard will take to the court for the first time in this year's Australian Open match on early Monday morning to play against New Zealand's Marina Eracovik. BBVA's brand ambassador has fond memories of the Melbourne courts and feels that she is in a great position to in the first big event of the year.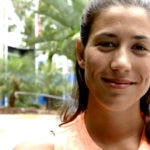 QUESTION: How are you gearing up for the first Grand Slam of the year?
ANSWER: I love Australia. The Australian Open is many players' favorite tournament, because it is huge, the weather is spectacular, it is like an entire summer of tennis and there are always new things going on. So, I'm very happy to be here again.
Q: What springs to mind when you think about your past appearances in the tournament? How's Melbourne different?
A: I will always remember Australia as the first Grand Slam in which I won a main draw match. It was a grueling match, almost 4-hours long, very dramatic, but I took victory. Since then, every time I come here I remember how hard I worked and that makes me happy.
Q: Were you able to recover from the adductor muscle injury that forced you to quit Brisbane?
A: My adductor muscle is fine. I think it took me longer than I thought to recover. Fortunately, I had a lot of time to recover. In fact is that I'm still recovering here in Melbourne, so I'm hoping that I won't have any issues.
Q: How did you feel during the Brisbane tournament?
A: Brisbane was actually quite good. The matches were really tough, and I'm glad they were because I know that that's something that will help me, maybe not today, but in the future. So far, I've been feeling pretty good, and I hope they will help me.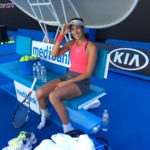 Garbiñe Muguruza training in Melbourne
Q: How did your pre-season go? Did your ankle treatment work as planned?
A: The pre-season was quite good. I loved it. We trained very hard. I got in the best shape I could. Luckily, my ankle is fine. We worked hard on its recovery with help from a physical therapist. So, so far, everything is good news.
Q: Did you work on your mental skills at all? How?
A: I've worked on so many levels… I've worked on my mental strength, which is also important, because the year is very long and matches are very hard. Physically, I also worked very hard. The pre-season is a key moment to work physically because you have one and a half month. So, I'm hoping I'll be able to give my best and that all the hard work will pay off.