So… vacation time is over and my preseason starts this very day. Gone is the 2016 season. A season that I will never forget, having won at Roland Garros and after making it for second year in a row to the WTA Finals. I'm so proud of these achievements, but they are all part of the past now, and, starting today, I'm be looking to 2017.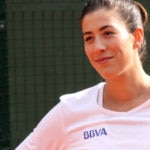 After Singapore, I spent a few days with some friends in Egypt, where I had the chance to visit Cairo and Luxor. It was a trip that I had wanted to take for some time and I loved it. I was able to disconnect in a place that offers a vibe and an atmosphere that's totally different from what I'm used to.  I recharged my batteries!
Once I went back to real life, the first thing I had to do was to get my ankle taken care of. Everything went really well, just as we expected, so today we will start with my physical training to get fit for 2017. I will have to take things easy and go one step at a time. For the time being, I can't do any jumping, so work will start in the gym, focusing on my core and upper body, back arms, shoulders… at least a couple of weeks like this and then we will start adding some leg exercises and training on court.
The first part I will do at home, and then later in the month, we'll move to L.A. to complete the second part of the work, focusing more on tennis. That way, jumping to Australia won't be that hard. My season will start in Brisbane, just as last year.
Garbiñe Muguruza recording BBVA's new spot - Cristóbal Baeza
Each year you learn from all past experiences. Preseason is an pivotal part of my year. Last season I had more complications than I expected: a stomach virus kept me sick in bed for over a week, we tried to make up for the lost time and then I had to putt out of Brisbane because my plantar fascia was giving me a hard time. You know, my feet and ankles... are delicate 😉
So, the priority this year is to have a good preseason, to do all I can to complete it as best as I can. We will be laying the foundation of what we hope will be a good season, one that's lining up to be an exciting one. I've learnt a lot over the past two years, I have been through so many things which have taught me so much. Right now I am quite relaxed, eager to work hard and aware that the pressure is going to be there, always. It's part of my life and I'm learning how to cope with it.  I'm extremely pumped and am going to focus on doing all I need to make sure I'm in the best possible shape by January. I hope you're also getting some exercise!
Garbiñe