The Bilbao headquarters of BBVA was one of the stops on a tour of Spain by future U.S. leaders. BBVA is the only Spanish financial institution involved in the "U.S. Young Leaders" program, which was launched in 2000 by Fundación Consejo España-Estados Unidos and the US-Spain Council.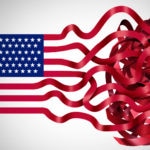 Each year, the program invites a group of promising young U.S. leaders, aged 30 to 45, to take part in a one-week immersion program aimed at familiarizing them the realities of contemporary Spain. What's on their agenda? During their stay, the group have met with political, business and government leaders, visit media companies and cultural and academic institutions. Their schedule included staying in different Spanish cities, in order to sample the country's cultural diversity.
What's the purpose of the program? Essentially, to build enduring ties among these young leaders themselves, and with their Spanish counterparts, to consolidate a network of common interests between both countries that contributes to building stronger bilateral relationships.
This year's edition, held during the week of November 11-17, included a visit to BBVA's headquarters in Bilbao, where the group met with the bank's Institutional Relations team to discuss two pressing topics: the digital revolution in banking and how BBVA is addressing it. In Madrid, participants met with Ildefonso Castro, Secretary of State for Foreign Affairs; Juan Manuel Bonet, director of the Cervantes Institute; and José Manuel Calvo, deputy editorial director of El País.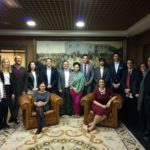 The young group of U.S. leaders with part of BBVA's Institutional Relations team - BBVA/ US-SPAIN COUNCIL
The Fundación Consejo España-Estados Unidos is a non-governmental initiative. Large corporations, cultural and academic institutions, government leaders and representatives of political parties, all participate in it. The foundation's goal is to strengthen Spanish-American ties in diverse areas - economic, financial, cultural, educational, political and professional- and to allow for a better mutual understanding and generate new projects in all these fields.
BBVA is one of the Foundation's sponsors; José Manuel González-Páramo, Executive Member of the Board, Head of Economy, Regulation and Institutional Relations of BBVA, holds the position of vice-president.