Grupo UNACEM closes a $345 million deal after successful syndicated financing led by BBVA
The funding will be used to acquire the Tehachapi integrated cement plant in California (U.S.) through its U.S. subsidiary Skanon Investments Inc. BBVA was the sole lead arranger and global coordinator in the operation, along with five other financial institutions.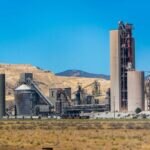 According to BBVA, this is one of the most significant syndicated finance operations in Peru this year, demonstrating the financial institution's solid capabilities and leadership to successfully direct financing arrangements in Latin America.
It also stands out as it confirms the 'originate to distribute' strategy as part of the bank's business plan and helps to grow the CIB asset book, representing another example of a cross-border agreement and teamwork in Latin America. 
Regional strength
"As a result, the bank has strengthened its relationship with Grupo UNACEM and consolidated its position as the leading financial institution in the region, accompanying its Latin American clients in their regional expansion, and even beyond the region," said Victor Gordillo, Head of Global Client Coverage for Peru. Grupo UNACEM obtained a total of $345 million in financing.
"This operation will strengthen Grupo UNACEM's investment portfolio in our core business and consolidate our presence in the southwestern region of the Americas, doubling our installed capacity in the country," indicated Pedro Lerner, Corporate General Manager at Grupo UNACEM.
Grupo UNACEM is the largest cement group in Peru and has cement, concrete, energy and service operations in five countries: Peru, Ecuador, Chile, Colombia and the U.S.