2016 is the year of Cervantes, Shakespeare and Hieronymus Bosch. These three masterminds are a hot conversation topic all over the world. Those who don't want to wait for the Bosch exhibit in the Prado Museum in May, sponsored by the BBVA Foundation – or who need to refresh their knowledge can, thanks to these four mobile apps.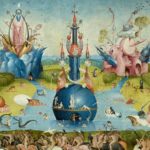 Fly through Bosch's most famous work, The Garden of Earthly Delights, on the back of a giant pink fish, an albino giraffe or a unicorn. All possible thanks to the free iOS and Android app, Bosch VR.
Developed by BDH, a British design agency nominated several times for BAFTA and Emmy awards for its animations, this virtual reality app lets you plunge into the enigmatic world of Bosch and experience for yourself the paradise and hell imagined by the medieval painter.
This video gives an idea of just how real the experience is.
A virtual tour through the Garden of Earthly Delights
For those who prefer to enjoy the hundreds of small drawings that make up the mysterious triptych up close and discover the hidden stories behind the images, the best way to do so is through the virtual tour developed by a group of historians, photographers and Dutch filmmakers.
This interactive documentary is designed to allow you to wander around the painting and explore the details that are almost indiscernible to the naked eye, thanks to the app's zoom tool, all while listening to, or reading, the experts' interpretation of the painting.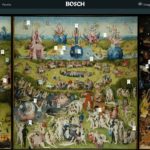 Second Canvas: Everything you need to know about a painting
The Prado Museum, owner of the largest collection of Bosch's works in the world, is using Gigapixel technology (an image in extremely high resolution comprised of a billion pixels) and x-ray, infrared and ultraviolet vision to show hidden details in the masterpieces.
And, of course, The Garden of Earthly Delights, is included in this iOS and Android app, which allows you to learn all about Bosch's work from museum experts, share the experience in social networks, and display the content on a television or projector.
And finally, a selfie with augmented reality
Those who go to the Bosch exhibit starting May 31st in the Prado Museum will also be able to use Photo Prado. Thanks to this free app using augmented reality technology, museum visitors can take home a personalized souvenir from the exhibit and share it on social networks.
Just focus your device on the code next to the painting and when the image of the painting appears on the screen, give the camera your best smile.