Music
Updated: 31 Oct 2018
Hitting all the right notes: A Q&A with BBVA Compass Brand Ambassador Tyler Dial
Tyler Dial is a rising country music artist who is always looking for ways to give back to his community – which is what also makes him a perfect fit as a BBVA Compass brand ambassador.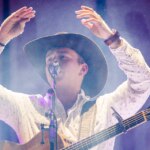 Whether it's on the road touring with the band, opening the Live Bright Bash ahead of headliner Jake Owen, or putting on a show for BBVA Compass employees and clients, everything Dial does is designed to put him and others on a path to a bright future.
Tyler Dial sat down with BBVA Compass recently to talk about his role as a bank brand ambassador, what drives him to achieve his goals, and a few other random topics – like bringing back the cowboy hat and how low his voice range goes.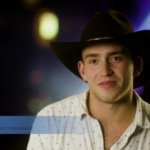 Here's 10 questions with Tyler Dial:
1.) You gave performances in Colorado and California at BBVA Compass locations as part of the bank's market blitzes in July. What was it like performing at a bank branch?
It was fun! I enjoyed turning the parking lot into a "tailgate" atmosphere with the help of some music, free food, face-painting, and more! Local country radio stations covered the event as well so it was a great opportunity for me to get in front of them and play my music.
2.) Have you participated in the bank's Summer of Opportunity initiative, and if so, how did you participate?
Yeah it was a fantastic summer and I was honored to play a role in the initiative. We played a few markets in California and Colorado where we spread brightness with our music. I got to surprise bank customers with gift cards and supported BBVA with their work in the communities. Over the past year, BBVA has provided me with fantastic opportunities and I was so happy to be a party of this Summer of Opportunity.
3.) Can you walk us through your pre-performance ritual?
Besides doing vocal warmups and drinking lots of water, I just enjoy hanging out with the band. Usually there is downtime between soundcheck and the show where we get to relax.
4.) What was the best concert you've ever given?
The BBVA Live Bright Bash was a standout this past year. It was my first time ever playing in a large stadium. Thanks to BBVA, we opened for Jake Owen, one of my big influences when I first started writing songs. After the show, I signed autographs and hung out with new fans for over an hour which was very special.
5.) What's the lowest note you can hit comfortably?
(Laughs) That's a great question. There are a few notes in "Friends In Low Places" by Garth Brooks that give me a hard time.
6.) Some people say the cowboy hat is being lost in the music industry nowadays. Is it important to you to keep that trend alive? Or is it simply a preference?
Like most country singers, I wasn't born on a farm; however, I definitely identify with the cowboy/troubadour lifestyle. I also think the cowboy hat is a good visual that represents the kind of music we're making.
7.) Which city that you've toured has the best food and what did that city offer?
It's really tough to beat the food where I live in Austin and Nashville. But we had some amazing BBQ in Birmingham last week as well as some good beach food in San Diego. Touring is great because I love traveling and I can't wait to do more if it when I graduate.
8.) Who were your influencers when you realized you wanted to be a country music singer?
My dad was always playing James Taylor, Garth Brooks, George Strait, and the Rolling Stones around the house so those guys had a big influence on me growing up. As I started songwriting in high school, Keith Urban and Sam Hunt were my favorites. I remember going to a Keith Urban concert with my mom in 8th grade and that was when I knew I was going to end up singing country music.
9.)You're a BBVA Compass brand ambassador. What has the bank's support meant to you?
BBVA Compass' support has been incredible over the past couple years. They have created a lot of opportunities for me and I'm really proud to be in the company of other amazing BBVA Ambassadors. Events like the BBVA Compass Live Bright Bash, our Summer of Opportunity Tour, and the Alabama "A" Day shows were great opportunities to get my music out there and start building a fanbase.
10.) You have a bright future ahead of you, which one of BBVA Compass' 10 Bright Principles helped you create the amazing opportunity in front of you?
"Dare to be you" is a principle that I confront every day. As an up-and-coming country singer, I have a lot of competition and the only way to stand out is to be myself. It's very easy to chase trends and to be what you think people want you to be. Being confident in my music and my uniqueness will allow me to create an authentic brand that people can get behind.