The Houston Dash kick started their 2018 season at BBVA Compass Stadium on Sunday, March 25, marking the beginning of their fifth season in existence.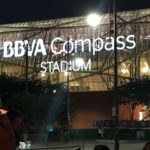 While the Dash tied in a valiant effort for a third straight season-opening win, BBVA Compass clients had a winning experience with an elevated atmosphere and other perks, compliments of BBVA Compass. The perks are similar to the Dash's fellow stadium residents, the Dynamo, and bring an equal level of excitement to the game.
We can't wait to see what 2018 brings for this talented team.
"We've been a supporter of the Dash since the very beginning, and we wanted to utilize our resources to create a unique game viewing opportunity for fans," said BBVA Compass Director of Brand Strategy Sheiludis Moyett. "It's an amazing thing to see the Dash grow from their beginnings in 2014 to today. It's been an amazing ride, and we can't wait to see what 2018 brings for this talented team."
Perks at the game included:
Parking: Complimentary parking for the first 20 clients to show a credit or debit card in Parking Lot C at BBVA Compass Stadium.
BBVA Compass Charging Station: Mobile device charging station for all BBVA Compass clients located at the BBVA Compass kiosks at Section 102, available throughout the game.
VIP Audi West Club Entrance & Admission: Early access is granted for all BBVA Compass clients at the VIP Audi West Club lounge.
BBVA Compass' commitment to the Dash has been shown in a variety of ways, including their signing of Kealia Ohai as bank brand ambassador in May 2017. Ohai also participated in the bank's signature holiday initiative, Project Blue Elf, when she showed up at a local elementary to donate toys to low-to-moderate income background children in December.
Other initiatives undertaken with the Dash include the Building a Better Houston campaign. Multiple events are held throughout the year as part of the initiative, such as financial education events and soccer clinics.