While society continues to adapt to the new reality post the pandemic´s outbreak, the workplace has begun to glimpse the guidelines that will mark our new ways of working. Confinement and movement restrictions have made teleworking a valid solution in many sectors and its managers are now studying how to extract the lessons learned and incorporate them into hybrid work models. It's something that will bring on the need to adapt to different work roles, work dynamics and new ways of leading.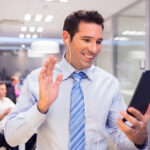 While it is true that the current context has accelerated this trend, for years now old leadership models have begun to feel outdated as well. Factors such as globalization, digital transformation, social changes, and a professional market headed by a new generation of workers who seek certain requirements and arguments to opt for one job over another, have forced companies to make profound changes in their organizations and dynamics.
"Society demands that internal processes be simplified and that relationships be less hierarchical and much more collaborative," says Enrique González, BBVA Head of Culture and Employee Communication. While this more horizontal organization model is beginning to gain adherents in more traditional companies, it is very widespread in startups and SMEs. "The new generations, who already make up a large part of the labor market, have a very different conception of work compared to their parents. They value their leisure time and personal development more or as much as their professional success, hence they seek the implementation of flexibility measures such as teleworking or family conciliation," he explains.
A reality that translates into the adoption of more open and flexible management models, which allow employees to have a close relationship with their bosses, participate, get involved in the company, and develop their own ideas and be measured by it. "It is necessary for organizations to move towards a different, inspiring leadership model, adapted to the new reality, where work is more decentralized and based on trust in teams," says González.
New ways to lead
BBVA is currently in this process: "At the bank we are undergoing changes. We are looking for a new way of working where we are all part of the same great team." Our new leadership model has three essential features: entrepreneurship, empowerment and accountability. For Enrique González, a leader must be "a person who lives the Group's corporate purpose and values and who does so with integrity, acting with transparency and responsibility towards clients, employees and society in general. A leadership where we are all leaders: empowering teams, fostering entrepreneurship and making ourselves responsible for decisions and results."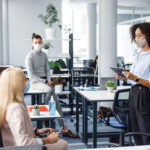 A model that exemplifies all this is agile's, which was implemented at BBVA in 2014 and is based on highly flexible ways of working. "Greater flexibility at work requires the creation of multidisciplinary teams, with autonomy to organize themselves and the ability to execute from one end to another. Using the style that we began implementing a few years ago, the new normal will accelerate the adoption of agile practices in the workplace, empowering multidisciplinary teams with the ability to work on their projects autonomously and always aligned with the bank's strategy," he says.
Characteristics of the new leader
With regard to the capabilities that this new leader will require, greater decentralization and work models with an internal operation close to the talent market, will make continuous training essential. "In this sense, at BBVA we are deepening internal training models aimed at reskilling and upskilling. Models like our Ninja Academy create positive incentives for training in a very open gamification environment," he asserts.
The ability of companies to create attractive, flexible and digital training models for their employees will be the keys to their success. Additionally, what are known as soft skills—very relevant in the new normal—will gain importance: empathy, networking, influence, resilience, negotiation skills, learning agility, and systemic thinking.
These are characteristics that represent a clear improvement not only for employees, but for companies as well. "With this leadership model, the workforce is more motivated, since they have greater autonomy and independence to do their work. By reducing procedures and hierarchies, communication is open at all levels of the company, team collaboration is fostered and the speed and agility of processes is increased," adds González. Ultimately, it's a formula that encourages innovation and the continuous training of people and teams.