Meetings, reports, deadlines ... a symphony of tasks that can sometimes turn the workday into a slog. On top of all this, add the intention to live a healthy lifestyle and it might seem like an impossible task. Luckily, there's always a smartphone at hand and an app to help you face the day.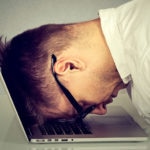 Once you've dragged yourself out of bed and after having gotten to work on time, apps and smartphones can help make the weekly work hours spent in the office more bearable, including for all manner of employee shifts or even those for freelancers and entrepreneurs, who often don't have a defined schedule. In all kinds of sectors and at every position, the use of digital allies is already a reality for professionals.
9:30 AM "Don't leave for tomorrow..."
The lack of a systematic method of working might result in urgent tasks that are left for the last moment rather than being immediately tackled. To avoid organizational disasters, Microsoft developed Wunderlist, an application that supports the management of different tasks, such as planning vacations or making shopping lists. It also lets you set up alarms for deadlines and has a functional that lets you add people to your already created to-do lists.
Another app to help organize the agenda is the hugely popular Google Keep — with 4.4 out of 5 stars. It provides not only the options to create reminders or lists, but also allows you to incorporate the use of voice notes, images, and handwritten notes. It can also be synchronized with the user's Google account, giving greater access across devices.
10:30 AM Eat worry-free
Anyone who has some food on their list of allergens can rely on ¿Qué Puedo Comer? (What Can I Eat? In Spanish only.) Submitting the user's intolerances and allergies, the application indicates whether a product can be eaten or not. The efficiency of this app is underpinned by its database which has information on more than 20,000 products from the main supermarkets. Users only need to scan the bar code to see if they have intolerances to any of the ingredients.
11:00 AM The office in the smartphone
Work meetings and commitments can make it impossible to access files from your computer, but Google has the answer. With the help of Google Drive and Hangouts it's possible to access any document as well as any contact saved on the platform, so that if traffic hasn't let you get to the office in time and something urgent has come up, you can take care of it from your smartphone.
12:00 PM 'Be water, my friend'
Avoid muscular fatigue. Have cleaner, clearer skin. And help hydrate the body. These are just some of the many benefits associated with drinking the recommended amount of water. Applications like Aqualert and Plant Nanny take into account a user's weight, activity level, and gender to suggest an amount. It also provides alerts when it's time to drink water; so "forgetting to drink" is no longer an excuse.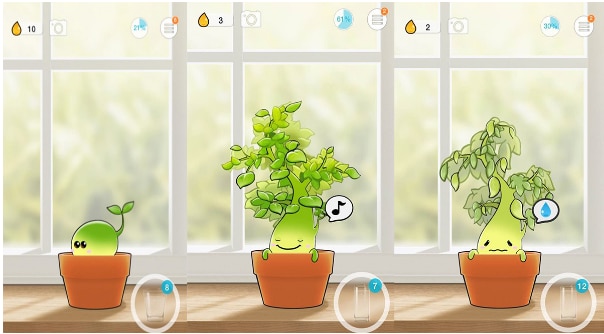 How Plant Nanny works?
14:00 PM A Chef at the office
Wake up, go to work, keep the house neat and tidy, do the laundry, cook ... There are only 24 hours in a day, and sometimes it's not enough. Vitalista has created its app for those who don't have enough time to cook and maintain a balanced diet. This online company makes it their business to prepare and deliver meals to the office for people who want to lead a healthier life by eating better. They have different plans tailored to customer needs and menus that include meals for any time of the day from breakfast to dinner.
15:30 PM A personal DJ
After lunch, it can be difficult to get your head back into work. To make these hours more enjoyable, you can download a music player to your smartphone. Spotify is one of the most extensive music players and among its functionalities it offers:
Add and create favorite playlists for different moods.
Weekly recommendations and discovery modes.
Songs of the day, popular lists, the most viral songs, etc.
It also lets you make public lists and follow other users, just like a social network.
16:30 PM A digital wallet
Coffee time is sacred for many professionals. But sometimes you leave your wallet (with all your cash and credit cards) in the office, and the nearest café is in the next block. The answer is to have a payment tool on your phone: this is the functionality provided by digital wallets like BBVA Wallet, the app that in addition to letting you pay with registered cards, provides information about promotions in nearby establishments.
17:00 PM It's time to stretch your legs
The average working day is around eight hours a day, and a majority of this time is spent sitting in front of a computer. So a lot of time sitting and straining one's eyes can take a toll; it's always a good idea to stretch your legs from time to time. Dawnsun's Office Yoga' is an application the helps relax your back and shoulders. Using tutorials, it shows how to stretch the parts of the body that can get stiff over the course of the day.
18:00 PM Has it been a productive day?
When a worker is freelance it can be complicated to determine how much your work is worth and especially to explain it to the client who has to pay the established price. 'Freelance Calculator' is an app that uses the number of days and hours of work along with other factors like target profit to allow the user to establish the approximate price to charge so that one's working hours are profitable.