Carlos Torres Vila attended one of the activities of the Code.org programming course for children of BBVA employees. The BBVA Chair shared a day with 146 boys and girls between 5 and 13 years of age to promote programming training among young people.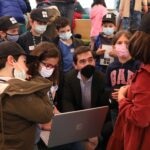 "Programming allows us to create, invent, and helps us understand a digitalized world. It demystifies it and, on top of that, it will be a prerequisite for many jobs in the future.  Knowing how programming works opens the door to many opportunities," said Torres Vila.
This is exactly the goal of Code.org, a non-profit organization seeking to promote the learning of programming from an early age. Its founder, Hadi Partovi, grew up in Iran during the revolution, and with his parents as role models (his father was a physicist and his mother a systems analyst), Partovi and his brother learned, practically on their own, how to program from an early age. Their own experience led them to found Code.org, which has now become the leading provider of computer science training in the USA.
BBVA is spearheading the project in Spain and as a result of the collaboration between the two entities, Carlos Torres Vila has been one of the trainers of the educational platform. The three-month course that the bank's employees' children are taking is introducing them to the basics of programming, learning about concepts such as algorithms, visual commands and block programming so that at the end of the training they can create their own game or story. The BBVA Chair spoke to the children of his experience by recounting how programming seemed like magic to him when he was 15, and how it continues to help him in his work. "I have programmed many times to solve problems, using the same way of thinking, step by step," he commented, encouraging them to not be afraid to try new things and innovate.