BBVA customers in Spain can now invest online and on the app in an ETN that tracks bitcoin
BBVA has now added to its product offering an ETN issued by Fidelity Exchange Traded Products GmbH that tracks the performance of bitcoin. Customers who qualify under the MiFID suitability assessment can sign up for the new product via BBVA's website or smartphone app.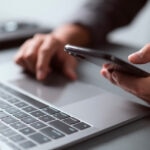 The BBVA Group was an early mover in offering custody and trading services for bitcoin and ether in Switzerland, one of the countries with the most advanced crypto-asset regulations in the world. The Swiss-based crypto service is available to private banking customers only. Now, however, BBVA has introduced to its product range in Spain the financial instrument Fidelity Physical Bitcoin ETN (Exchange Traded Note), a publicly traded ETN issued by the asset manager Fidelity Exchange Traded Products GmbH. The ETN tracks the performance of bitcoin, net of management fees and operating costs.
Trading orders on this ETN can be placed only online or via the BBVA smartphone app by individual customers interested in crypto-assets who have qualified under the suitability assessment mandated by MiFID regulations. The instrument is not considered suitable for investors who are unfamiliar with the specific nature and risks of ETNs and crypto-assets, so the bank's physical branch offices and personal banking managers will neither offer the product nor advise on it.
Trading delivers the same user experience as any other exchange-traded security. Trading in the ETN is subject to the opening and closing hours of the Frankfurt Stock Exchange (09:00-17:30 CET), so, after closing, orders cannot be placed until the next business day.
Customers can track their investment from their overall BBVA securities position, along with the rest of their asset portfolio. BBVA thus remains at the forefront in the adoption of blockchain technology and in offering the most cutting-edge products in the market, while always providing the highest standard of customer safeguards.
"This ETN issued by Fidelity means that BBVA customers in Spain who, being aware of the risks of this type of investment, wish to expose part of their investments to bitcoin, can now trade using the app and the website," says Francisco Maroto, Head of Blockchain and Digital Assets at BBVA. "With the addition of this product, we continue to advance our goal of giving our customers access to new digital asset markets."
Fidelity Physical Bitcoin ETN is regulated and supervised by the Federal Financial Supervisory Authority (BaFin) of Germany and has been registered with the Comisión Nacional del Mercado de Valores (CNMV) in Spain by means of the EEA passporting procedure.