A new strategy and narrower focus will help BBVA Open Innovation build on its 2018 successes.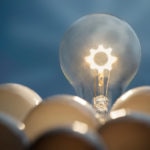 Open Innovation builds connections and partnerships with fintech entrepreneurs and startups around the world, with the aim of bringing new products and services both to BBVA and to its customers and clients, while nurturing the fintech ecosystem as a whole.
Evolving from connection-making to impacting the core
In 2019, Open Innovation (OI) will focus on strengthening its relationship with other business units and driving positive impact on BBVA's core business. This will be achieved through three key activities - scouting, investment, and partnering - and in particular through the implementation of proof-of-concept pilots and collaboration.
Historically, BBVA has invested in startups through its corporate venturing arm Propel Venture Partners. Propel most recently invested in DataSine, a b2b psychology and machine learning company that was a finalist in the 2017 Open Talent AI vertical. The vision of BBVA Open Innovation for 2019 and beyond is to support startups that have already scaled up or completed pilot projects, but also to broaden its partnerships with VCs and other investors to maximise the value delivered for entrepreneurs embarking on what is ultimately a journey of trust and collaboration with OI.
Scouting for fintech collaborations
The scouting process is divided into several themes which Open Innovation supports: Internal investigation, Seed, Connection Festivals, and Fast Track events.
In order to scout, BBVA first consults internal business units to find if there are gaps in their skills or software systems internally that could be met by collaborating with a startup.  BBVA then 'scouts' the ecosystem to identify companies that fit best this particular need. Once a handful of startups have been selected, they are invited to the Connection Festival. The heads of business units will meet with the identified startups and conduct an initial selection process to identify two or three companies that best fit their specific needs. If successful following this initial selection, companies will be moved onto the 'Fast Track' programme where an initial proof of concept (PoC) will begin to be mapped out. The aim of Fast Track is to work out whether a 'collision', or productive collaboration, can be progressed.
Open Innovation has a new initiative to improve its global startup talent scouting. The Seed Program aims to focus scouting from the outset on identifying startups with solutions that have the potential to address the strategic needs of the bank. Through the program, Open Innovation works to understand BBVA's needs, then identify the best solutions from outside the bank, with a long-term vision in mind. The Seed Program expands Open Innovation's scouting process beyond Open Talent, also identifying startups through Open Marketplace, Open Spaces, and Connection Festival.
Supporting local ecosystems
Open Innovation has already begun shining a light on local fintech ecosystems – both through country-specific awards for leading startups as part of Open Talent that have recognised high-potential innovators in Spain, Mexico, Colombia, and Peru, and through the establishment of local communities through Open Spaces and Open Talks. BBVA can offer startups help with retailing, enterprise, banking, regtech, and more, but also solution architecture, risk management, and finance to underpin their services. BBVA's vision is built on the belief that supporting growing businesses by sharing useful knowledge and experience in these critical areas will be of more long-term value than financial prizes and publicity.
BBVA is unique in its core markets in its ability to draw on its scale and expertise to support startups. At Open Space in Madrid, BBVA runs an incubation program which is intended for early or seed-stage startups that have been through the Open Talent competition. The program offers mentoring initiatives and workshops for example, to help educate and grow startups.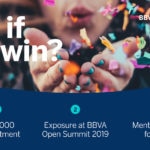 Open Talent 2019
Making a mark
A global events program headlined by three main workstreams: Open Talent - the world's biggest fintech competition, Open Summit - BBVA's twice yearly fintech conference, and Open Talks - and on-going series of insight-driven get-togethers, will be BBVA's focus for spreading its footprint in 2019.
In addition lighting up target geographies calls for feet on the ground, which is why in 2019 Open Spaces - a physical footprint of Open Innovation - will be expanding and bringing together BBVA and businesses that are ripe for incubation. Open Spaces will also continue to facilitate connections being made between BBVA and scouted companies at BBVA-hosted events.
Another initiative on the calendar for Open Innovation in 2019 is a hackathon competition in Spain. This will build on the success of a similar initiative in Mexico over the past two years, and aims to surface the kind of talent that fast-growing fintech startups need.
Last week BBVA also announced it had now opened for registrations for Open Talent 2019 with this year's focus on shining a light on emerging tech-powered solutions and then supporting their growth.
Solidifying a global footprint
Throughout 2019 OI will continue to solidify its global footprint. One of the ways to expand awareness will be by reaching outside of BBVA's existing core territories of Spain, LATAM, Turkey, and Silicon Valley, into other key fintech hubs, such as those in the UK, Singapore, Israel, and New York, and showcasing impact to date through real-life proof points rather than 'show and tell'. By doing this, OI will be able to discover best-in-class startups that have the potential to collaborate with the bank on pilot projects.
As a result of narrowing BBVA's focus for 2019 with a fresh and impact-led vision, the future looks exciting for 2019 and beyond for Open Innovation. Stayed tuned.