BBVA signs a strategic alliance with Intel to continue driving its technological transformation
The new global partnership will enable BBVA to optimize data storage and processing capabilities that drive its commitment towards innovation in financial services.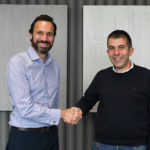 The agreement establishing Intel as BBVA's priority partner is part of a series of strategic, global alliances that the Group is formalizing with tech leaders. The goal is to become a more flexible and scalable bank, capable of offering its clients the best data-driven digital services.
The agreement will give BBVA access to a suite of products, tools and capacities enabling it to improve the performance of its data storage and processing systems. The solution portfolio provided by Intel includes both physical components and software tools that will help BBVA to continue developing next-generation digital banking services based on Artificial Intelligence and machine learning.
Leveraging Intel's capabilities, experience and deep knowledge of the industry will enable BBVA to advance in the evolution and deployment of data-mining architectures. The agreement will be particularly relevant for BBVA when approaching the challenges posed by the integration of processors designed for the use of artificial intelligence in its data infrastructures.
During the signing event, Ignacio Bernal, BBVA's Global Head of Architecture Engineering, stated: "This agreement will support our efforts to provide the bank with the technological infrastructures and capabilities necessary to continue leading the financial sector's digital transformation. Thanks to this alliance, we will be able to leverage all of Intel's knowledge and potential and continue advancing towards becoming a flexible and scalable digital entity, capable of offering our clients the best digital banking services."
In turn, Norberto Mateos Carrascal, Country Lead of Intel Spain, added: "The financial sector continues to lead technological adoption and is a key player in the digital transformation process that our society is undergoing. This collaboration with BBVA demonstrates Intel's commitment to accelerate business leaders' integration of the latest technological advances in the fields of infrastructures, hybrid cloud and artificial intelligence in order to translate them into more efficient services and personalized services."
The agreement means that BBVA continues to build its network of alliances with key technology partners throughout the world. The initiative began in 2016 and has so far included leading companies such as Cisco, Red Hat, Salesforce, Amazon Web Services and IBM.