BBVA recently presented BBVA Spark, its full financial services proposition for innovative, high growth companies in their different stages of growth. Spark provides these companies with all their financial needs within the same place, and gives them access to sophisticated financing products, such as venture debt and growth loans. To do so, BBVA Spark will offer them a unique relationship management model with a team of experts who speak their language.
BBVA Spark is launching in Spain and Mexico with the goal of boosting innovation and facilitating the growth of the companies that are defining the future through innovative, technological business models and a strategy to reach new markets quickly.
"These companies primarily use equity financing from private investors. Largely because they are in the very early stages of development, but also due to the lack of a banking financing proposition. At BBVA, we see an enormous opportunity in accompanying these high-growth companies," said David Puente, Global Head of Client Solutions at BBVA, during the presentation of BBVA Spark.
To meet this need, BBVA has developed a complete offering that adapts to the different life cycle stages of these companies - from their initial stages to the point where they have evolved into large corporations. It also offers a unique customer experience, as it has its own network of specialized bankers and advisors, fully dedicated to this segment.
"We want to be a universal bank for high-growth companies with a clear goal in mind: building long-term relationships with these clients," underscored Roberto Albaladejo, Head of BBVA Spark.
Therefore, depending on which stage they are in, companies can access BBVA's entire product suite (payroll, payments, cards, insurance, etc.) and the specific financing they need. This is underpinned by a risk model that is adapted to the reality of these clients and which makes it possible to have a forward-looking approach to evaluate businesses.
Specifically, BBVA Spark will add new structured financing products to its offering, including venture debt. This product is very common in other markets with a large entrepreneurial ecosystem, like Silicon Valley, as it allows companies to access bank financing and reduce the dilutive impact on ownership that stems from private equity funding rounds.
"We put BBVA's product capabilities at the disposal of our clients".
BBVA Spark's offer is also available for high growth companies in more advanced stages, with other specific financing products like growth loans. They allow companies to undertake investment projects, such as entering new markets or executing corporate deals. BBVA Spark also offers advisory for M&A operations and IPOs, bolstered by BBVA's investment banking capabilities. "At BBVA Spark, we put BBVA's product capabilities at the disposal of our clients, which will allow us to serve them from their earliest stages until they become large corporations and are then served by our Corporate and Investment Banking teams," the global business unit head explained.
These types of financing operations and advisory will be provided by specialized teams that will support the companies at key points in their development.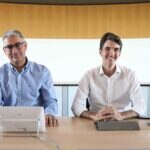 David Puente, Global Head of Client Solutions at BBVA, and Roberto Albaladejo, Head of BBVA Spark, during BBVA Spark launch. - BBVA
Investment and access to the entrepreneurial ecosystem
BBVA Spark combines within the same business unit financing, advice, venture capital fund investments and connection with the broader entrepreneurial ecosystem. BBVA has a demonstrated track record in the latter two activities, and hopes to drive synergies with high growth companies by encompassing all of these activities under the same business line.
BBVA Spark includes the area that defines the investment strategy for venture capital. These investments include Propel or Sinovation Ventures, and recent investments in Leadwind, Lowercarbon and Fifth Wall. "On this basis, we are going to increase our investments in these funds, supporting the companies of the future in four key areas: tech companies and high-growth innovative companies; fintech; digital assets; and decarbonization," David Puente added.
In addition, BBVA Spark encompasses Open Innovation activities to support the entrepreneurial ecosystem and the bank's collaboration with startups.
The new unit was created with the aim of becoming the bank of reference for the companies that are defining the future. Clients can sign up online on its website and will have access to the entire BBVA network.
In the coming months, BBVA Spark will expand to the rest of the countries where BBVA has a presence.