BBVA USA was recently honored by IDG's CIO as a U.S. 2021 CIO 100 award winner for its efforts, that took place exactly one year ago this week, in creating an online portal for the Paycheck Protection Program (PPP).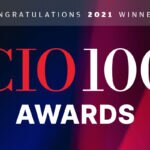 The award recognizes technology innovation in teams that went above and beyond in various industries. BBVA USA was specifically recognized for its achievement in creating the online PPP application portal in just three days.
"With very little time to complete this work and within a new pandemic response model of working remotely, BBVA USA rose to the challenge and overcame some major obstacles to create this app," said BBVA USA CIO Kevin McMahon. "Those working on the program truly felt it was their call to do everything they could for the small businesses that needed financial assistance, and they worked tirelessly to make that happen. Being awarded as a CIO 100 winner is a testament to our team's dedication to the bank's customers and their well-being."
According to McMahon, a team of technicians worked continuously from March 31, 2020 until April 2, 2020 in order to have the portal ready to accept applications on the PPP's first day. Late in the day on April 1, last minute changes based on new Small Business Administration (SBA) guidelines were sent to participating financial institutions, altering a significant portion of the pre-work that had already been done on the BBVA portal.
"The technicians had no choice but to band together, start over, and work all night in order for the bank to be ready to accept loan applications the following day, which was the opening day of the program," said McMahon. "Our team's agility and commitment allowed BBVA to include these changes in time."
(Story continues below)
BBVA USA CIO Kevin McMahon
Ultimately, the portal was enabled on time, at 2 p.m. on April 2, 2020. Developing a new online application would ordinarily require months of planning, development and deployment, says McMahon.
BBVA USA subsequently funded approximately $3.3 billion in PPP small business loans in less than 60 days after the portal was enabled, processing more than 22,000 applications and impacting approximately 360,000 jobs through its efforts. According to McMahon, multiple teams played an integral role in the app's successful rollout, including the bank's small business, risk management and operations departments, in addition to over 200 BBVA employees who volunteered their time to process applications.
"This year's CIO 100 class demonstrates an amazing array of initiatives," said Anne McCrory, Group Vice President, Customer Experience & Operations, at IDG Communications, Inc., CIO's parent company.  "Many helped their organizations thrive during the dark days of the coronavirus pandemic, whether by directly addressing new realities in health care or business or expediting digital transformation to adapt."