Co-founder of 2019 BBVA USA Momentum winning company sets sights on Madrid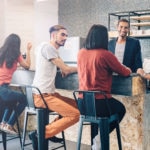 That company, Gifts for Good, was the 2019 BBVA USA Momentum winner. Laura Hertz, co-founder and CEO, started Gifts for Good to reinvent the $100 billion corporate gifting industry to become the first source for business gifts with a social impact. A B2B marketplace, Gifts for Good sells life-changing products made by over 50 nonprofits and social enterprises to businesses purchasing employee and client gifts in bulk.
The company was created to provide this platform for nonprofits and social enterprises who make impactful products to better sustain themselves and grow their reach and impact. Gifts for Good impacts the globe by not only reducing waste in the corporate gifting world by providing meaningful corporate gifts (over half of the $100 billion spent on corporate gifts ends up in a landfill in two years), according to Hertz, but each gift provides a multitude of support for communities in need across the globe.
From clean drinking water to access to education, from planting trees to meaningful work and living wages, Gifts for Good has impacted the lives of thousands of people across the globe. Hertz recently shared that she deeply appreciated the BBVA Momentum training sessions at the University of Texas at Austin, especially the knowledge she gained with the professors that has already helped her and her team enhance their operations and therefore, impact the lives of even more people around the globe.
In the social entrepreneurship space, we are all in business to help others.
"It was so inspiring to be surrounded by an amazing community of social entrepreneurs and innovators from all across America," Hertz said of the program. "In the social entrepreneurship space, we are all in business to help others and you could truly feel that in our program; despite it being a competition, every participant was there to support and enable the growth of one another's businesses."
Hertz also learned the important value of having a program mentor to help accelerate the growth of Gifts for Good. That mentor was BBVA USA Community Relations Officer Anita Dharapuram.
"Anita has been an invaluable asset to me throughout my time in the Momentum program," she said, "I feel so grateful to have crossed paths with her in this life and know that we will be friends for many years to come."
When named as a Forbes' 30 Under 30 Social Entrepreneur, Hertz stated that she was surprised and excited. The Forbes 30 Under 30 list was announced on "Giving Tuesday" - an international day of giving before Christmas, and one of Gifts for Good's busiest days of the year.
Laura had just wrapped seven hours of filming for a TV segment when she was surprised to learn of her inclusion on the list. Being in Forbes' 30 Under 30 was an incredible honor that she had only dreamed about for years, she said. The acknowledgement also reinforced for Hertz that Gifts for Good is not only going to be successful, but will change the world, one gift at a time.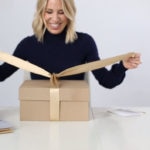 Laura Hertz
The 2019 BBVA Momentum global program culminates on March 3 and 4, celebrating the accomplishments of all the winners. The Summit in Madrid will include dynamic discussions with other successful social entrepreneurs as well as panel topics on pitching to investors. The premier event will bring together brilliant entrepreneurs focused on creating social impact in the world.
Hertz has already stated that she is looking forward to meeting other winners in Madrid - and connecting with like-minded entrepreneurs that experienced BBVA Momentum.
Disclaimer: The author of this story is Anita Dharapuram, Laura Hertz's BBVA Momentum Mentor.