Francisco González visits small entrepreneurs from BBVA Microfinance Foundation in Colombia
Soacha in Colombia receives 20-60 new families a week that are fleeing from the armed conflict that torments the country. In this context, the support of Bancamía (the entity of BBVA Microfinance Foundation in Colombia) to small entrepreneurs plays a key role in the area's economic development. Francisco González, Chairman and CEO of BBVA, visited three of these small businesses and saw their work first hand.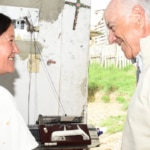 Soacha is 25 km from Bogotá and one of the main destinations of people that had to escape the armed conflict that plagues Colombia. As a result, it is a priority target for the UN and the World Bank. With presence in 91% of the territory, Bancamía has not been oblivious to this situation and supports 6,685 displaced people since 2008.
The Chairman and CEO of BBVA attended a business meeting at the head office of Bancamía in Bogotá and then traveled to Soacha to see some of the businesses that are being developed. Specifically, he visited the small supermarket "La Cosecha" owned by a local couple; the fabric workshop led by Linda Aura Cruz that guarantees the livelihood of four families and pays for the professional education of one of her daughters; and Norma's kindergarten, which is attended by more than 50 children, many of whom are children of displaced parents.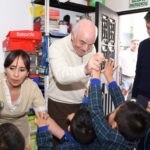 Bancamía currently delivers 1,022 credits per day amounting to 1,181 euros on average. This funding has undeniable impact on the life of small entrepreneurs: out of more than 800,000 people supported by Bancamía, 71% are in a vulnerable position since the surplus of their micro-companies is three times below the poverty threshold and 44% live in rural areas. However, on average after two years with the entity, the number of poor customers goes down by around 32%. "It is our privilege to be able to support them and help them prosper and have a better life," said Javier M. Flores, General Manager of BBVA Microfinance Foundation during his visit to the Soacha entrepreneurs.
Figures aside, the efforts made by entrepreneurs to progress and improve both their lives and the life of their community are commendable. "I find it moving to see this type of initiative and how a foundation such as ours can do a lot to help society. These people are given credit but they are the ones that move forward on the strength of their efforts and willingness to fight," said Francisco González.