This isn't an article about magic or a secret trick for using cell phones. It's simply about using the voice assistants that any mobile device contains: Siri for Apple and the popular "OK Google" for Android. Both allow users to send messages while leaving the smartphone on the table, untouched.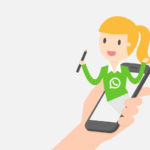 This is one of the many functions of voice assistants. Either due to a lack of awareness or to not wanting to talk to the smartphone, voice assistants are often overlooked when it comes to this task. It's very simple to do. The only area for improvement is in the transcription of the message.
How is it done?
On an iPhone: You have to give Siri permission to perform this task. To do so, go to "Settings", then "Allow Hey Siri" and make sure this option is activated.
Once it has been activated and confirmed, you just have to say, "Hey, Siri" and the voice command "Send a WhatsApp to" for the assistant to write the message. After it has recorded what you've said, it will show a screen to allow you to edit the text - a convenient option as the transcription is not always exact.
On an Android: It's similar for devices with Google's operating system. You just have to use a different command: "Ok, Google", followed by "Send a WhatsApp to", after selecting the contact. In order to do so, you have to first ensure that voice detection is activated in "Settings/Voice" and activate the command "Ok, Google".
A voice assistant to discuss money
It's important to be aware of these functions. They can come in handy any time you aren't physically holding your cell phone. It's a quick way to access the instant messaging app, although voice assistants can perform a wide range of other options as well. For example, you can use them to discuss money with a cell phone. This is the case of MIA, Garanti Bank's mobile voice assistant.
The Turkish bank has applied new voice technologies - like those used by Siri or Amazon's Alexa - to its mobile banking app, allowing its customers to interact with MIA as if they were talking to another person.