How to distinguish a successful startup, according to Propel
No venture fund can reveal all its secrets, is the first thing Propel says when asked how it selects the startups in which it wants to invest. But it does recognize that there are elements that are as clear a sign as any to detect a great company.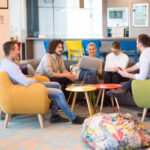 The team
The first thing that catches the eye of an early-stage startup is its founding team. Its members will be the ones who will really win over investors.
A good knowledge of the industry for which the new product is being developed, having worked in it and maintaining a good relationship of contacts is undoubtedly the best letter of introduction.
"This is the case with the founders of Coinbase. They all came from the financial industry and were perfectly aware of how it works," Propel assures.
Positioning where the industry is failing or missing
The main thing about the business proposal is that it has a clear objective and solves something that the industry is not doing or improves something that is being done poorly.
In this sense, startup proposals usually aim to solve an operational problem with technology. And because of a technology or digital first approach, they can offer the same service but at a much lower price, much more beneficial to the customer. Or last but not least, they compete with a better service through a differentiating user experience that makes processes that are annoying to customers simple and pleasant.
"Performance, price or service is where a new solution has to show its differentiation," stresses Jay Reinemann, main partner of the fund.
Scaling potential
The startup that is seeking financing from venture capital funds and investors must show that it can scale quickly to be a multi-billion company. Either geographically or to reach as many users as possible.
Investors are not going to look so much at the income statement or profit generation but rather at whether the company is growing at an adequate rate. That is why it is essential for entrepreneurs to position themselves in a sufficiently large market.
"Projects have to have the potential to scale. If you're not able to grow 200% annually you may not be a good fit for Propel," says Reinemann.