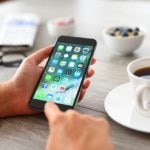 Ten years have gone by since Apple first presented its App Store offering apps for mobile devices. Back then, in July 2008, the platform kicked off with 500 apps that would become a cultural, social and economic phenomenon. The virtual stores have revolutionized the way people work, hunt for jobs, shop, meet each other, travel, make bank transactions… and a whole lot more.
Today, according to data from the Statista portal, the App Store offers its users two million apps, second only to the 3.8 million options available on Google Play, the store for Android devices launched in March 2012. According to data from a recent report by Sensor Tower, in the first half of 2018, the two platforms had combined revenues of 34.4 billion dollars, up 27.8 percent y-o-y, confirming the robust health of the mobile apps market. But what are the most successful apps in the history of the two leading operating systems for smartphones and tablets?
Most downloaded apps from App Store
Although it offers fewer apps than its main rival, App Store's revenues surpass those of Google Play. Specifically, according to Sensor Tower, between January and June 2018, Apple's app store invoiced 22.6 billion dollars compared to the 11.8 million for apps for Android devices. That is, according to App Annie, the ranking of the most downloaded apps in the App Store's ten years of life, without counting videogames.
Facebook and Google share the first six places, with four apps from Mark Zuckerberg's company (Facebook, Facebook Messenger, Instagram and WhatsApp Messenger) and two from the creator of Android (YouTube and Google Maps). The eight most downloaded apps are from American firms, whereas the ninth and tenth are two Chinese initiatives offering instant messaging: WeChat and QQ, both from the technology giant Tencent.
Most downloaded apps from Google Play
Although Android is one of the most widely used operating systems in the world, Google Play's revenues continue to lag behind those of App Store. Without taking into account videogames, the following are the ten most downloaded apps in its history, according to a classification by AndroidRank.
The top of the ranking closely resembles that of App Store, although Facebook's predominance can be seen even more clearly in the case of Android, where it occupies the first four spots. By number of apps, the joint silver medal goes to the Chinese developer Cheetah Mobile, with two antiviruses (Clean Master and Security Master), and Google, with YouTube and Google Play Services. The top ten is completed with another Chinese company – UCWeb with its UC Browser for mobiles – and the instant messaging app Snapchat.
Social networks and messaging platforms head most of the rankings. However, there are some other categories that have found a place among the users' favorite apps. According to Citi's 2018 Mobile Banking Study, they are closely followed by weather and banking apps, and it specifically notes that the use of mobile banking is "skyrocketing as more consumers experience the benefits of greater convenience, speed and financial insights."
Following this trend, BBVA has set out to enrich mobile users' experience by offering a suite of services to make people's everyday lives easier and to offer much more than the traditional functions of a bank. One example of this is the Valora View app, which uses augmented reality to help BBVA customers and non-customers hunt for an apartment. The app saw over 100,000 downloads in its first month. BBVA has also incorporated services within its mobile banking app, such as BBVA Baby Planner which allows prospective parents to plan financially for the arrival of a new baby. This feature has received over 700,000 visits.
These innovations have earned BBVA's app the distinction of being recognized as the best mobile banking app in Europe in 'The Forrester Banking Wave: European Mobile Apps – Q2 2018' report, published by Forrester. This accolade was awarded thanks to its "perfect balance between meticulous functionality and excellent user experience," according to Forrester.