Only days left to enter Open Talent, the world's biggest fintech competition
There are just a few days left for those designing the future of banking to get their applications in for the 2019 edition of the world´s biggest fintech competition.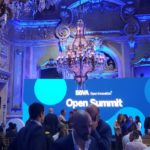 BBVA Open Talent closes its doors to applications this Friday, July 5th, so entrepreneurs looking for a partner to help them accelerate their business need to get their pitches logged as soon as possible.
Hundreds of fast-growth fintech businesses have already submitted their entries for the awards, which aims to find the most innovative and disruptive fintech startups from anywhere in the world.
While the competition - which is now in its 11th year - is open to every fintech idea out there, there is also a special focus this year on sustainability, with the judges looking for technological solutions to help the financial services sector operate in a more sustainable way.
This year's competition will select one overall  winner – chosen from three finalists from a global applicant pool, as well as separate national winners from nine of BBVA's core markets: Spain, Argentina, Columbia, Mexico, Paraguay, Peru, Turkey, Uruguay, and the USA.
And as mentioned above, one startup will also be selected to receive the sustainability award.
All winners will attend BBVA Open Summit in Madrid and be awarded a place on BBVA's online acceleration program to support their growth.
The Open Innovation acceleration programme, launched last week, is a project is aimed at giving businesses a targeted helping hand on the road to success. Over the course of nine-months, participants will receive expert guidance and support from senior leaders at the bank on a range of topics.
These include several sessions on areas like technological implementation, sales techniques and marketing.
Meanwhile, the overall global winner of BBVA Open Talent 2019 will receive a €100,000 investment from BBVA Anthemis Venture Creation Partnership.
Over the past ten years Open Talent has welcomed 6,000 startup participants from 90 countries, awarded €1.65 million in cash prizes, and worked with 750 executives.
Open Talent has also been identified — alongside four other BBVA projects — as contributing towards one of the eight United Nations Sustainable Development goals: decent work and economic growth. BBVA Open Innovation's main goal is to strengthen and collaborate with the fintech ecosystem.
So far this year, Open Talent has received entries from 25 countries, from Singapore to Spain and Kenya to Colombia, with the biggest number of submissions coming from the USA, India and the UK.
Prominent themes, aside from sustainability, include financial inclusion, identity management, supporting the unbanked, user interfaces, payments and asset management.
To find out more, visit the BBVA Open Talent website