When a storm of controversy erupted in Spain about the alleged mistreatment of interns in Michelin-starred restaurants, there were some surprised faces in the world of haute cuisine. It is true that in this sector, which has been so fashionable for a number of years, there are still those who are in favor of a training system of the "no pain, no gain" type; but these implacable instructors coexist side by side with maestros who, like the Roca brothers, have for a number of years been committed to a humanist revolution in the kitchens.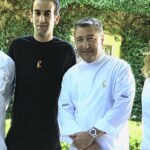 At El Celler de Can Roca, the trainees who are lucky enough to get an internship work in similar conditions to employees. The Girona trio of Roca brothers explain this simply: "You have to be more sensitive, healthier, and more human." With this aim in mind they overhauled their work structure some time ago, to ensure their chefs no longer have to suffer interminable working hours lasting morning to night.
"We have separated the teams into each sitting, either the morning or evening shift. Of course, it costs us double, but it's worth it. El Celler de Can Roca is not only three brothers; we have a whole group of people behind us. We owe a lot to these people, and we have to take care of them as much as possible," insists Joan Roca, the oldest of the most famous brothers in world gastronomy.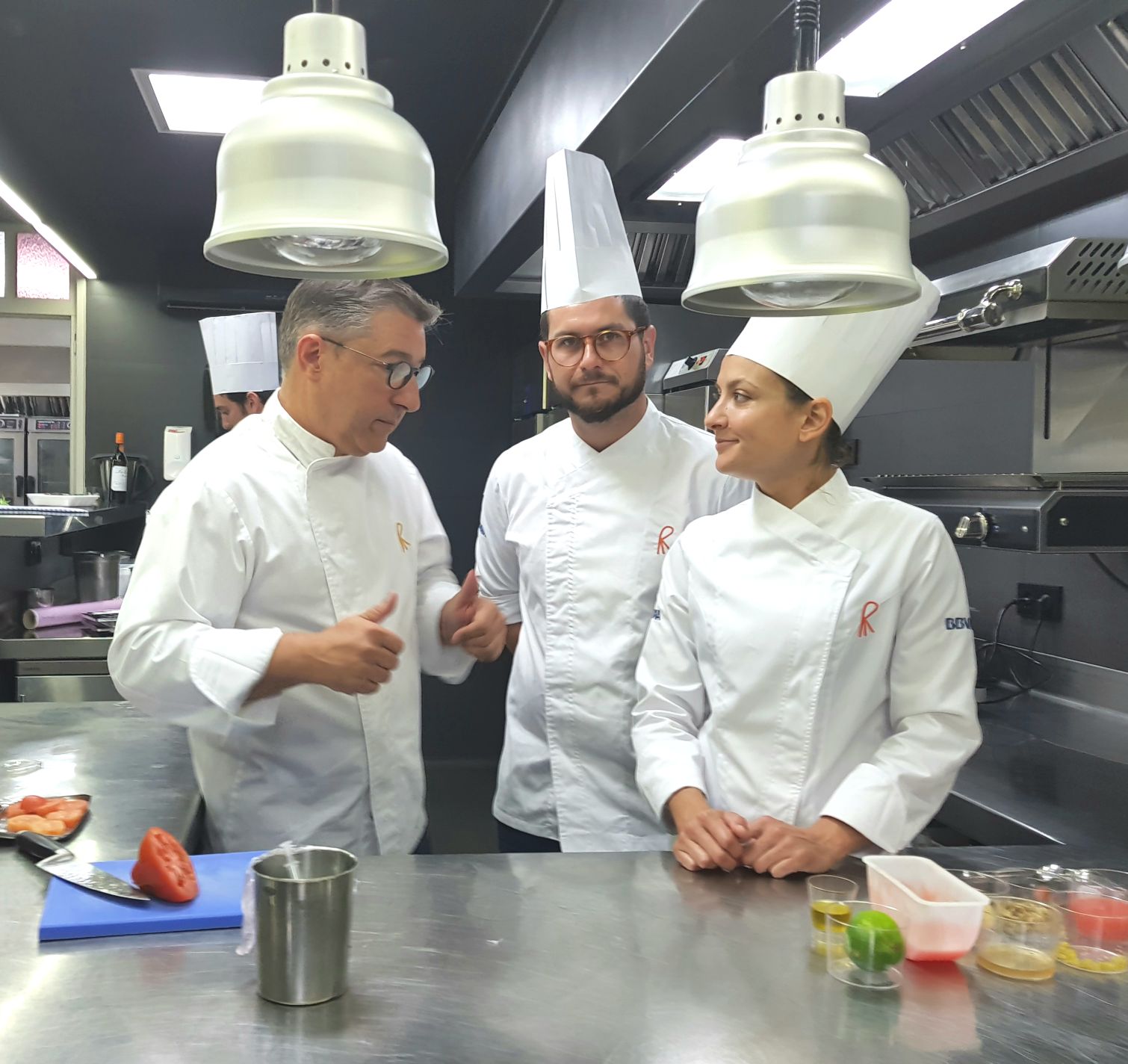 Joan Roca with the Galician interns of El Celler de Can Roca - BBVA
The metamorphosis has included not only the chefs and members of the technical staff, but also the interns, dubbed stagiers. The 20 interns assigned every four months are distributed among the different shifts in such a way that they do not have to work more than eight hours a day. Not all of them are happy with it, Joan admits: "Many come from very far away, and they say that they want to be in the kitchens for more time, to learn more. I tell them no, that it's best for them to use their stay to enjoy the environment, or use our library: there's a lot to study there too."
The BBVA scholarships: from around the world to Spain
Some of the internships are reserved for the special scholarship program that BBVA designed with El Celler de Can Roca four years ago, and that has brought students from around the world to Girona: from Argentina, Hong Kong, Turkey, the United States, Mexico, Colombia, Great Britain and Peru. The scholarship program includes pay, accommodation, meals and an educational program backed by the University of Barcelona, which includes theoretical training given by multidisciplinary specialists working outside the strictly gastronomic field: there are classes on types of chocolate and caviar, or on how sugar can be replaced in food, but also on team management, sensory reception and client psychology.
It's when we see them cook that we really get to know them"
In 2017 and 2018, the BBVA scholarships are targeted at catering students from around Spain, whether working in the kitchens or front of house. Joan Roca briefly explains the El Celler and BBVA project. It consists in traveling around Spain to discover the cuisines in each region, while at the same time creating job opportunities for young people from the whole of Spain: "The results are very positive, we benefit a lot from this learning process. They bring us products and recipes, and we even organize a competition in which they cook dishes from their regions, because it's when we see them cook that we really get to know them... It's a process of professional enrichment for us and for them, but also personal enrichment, because of the relationships and close ties that are formed with the El Celler team," he concludes.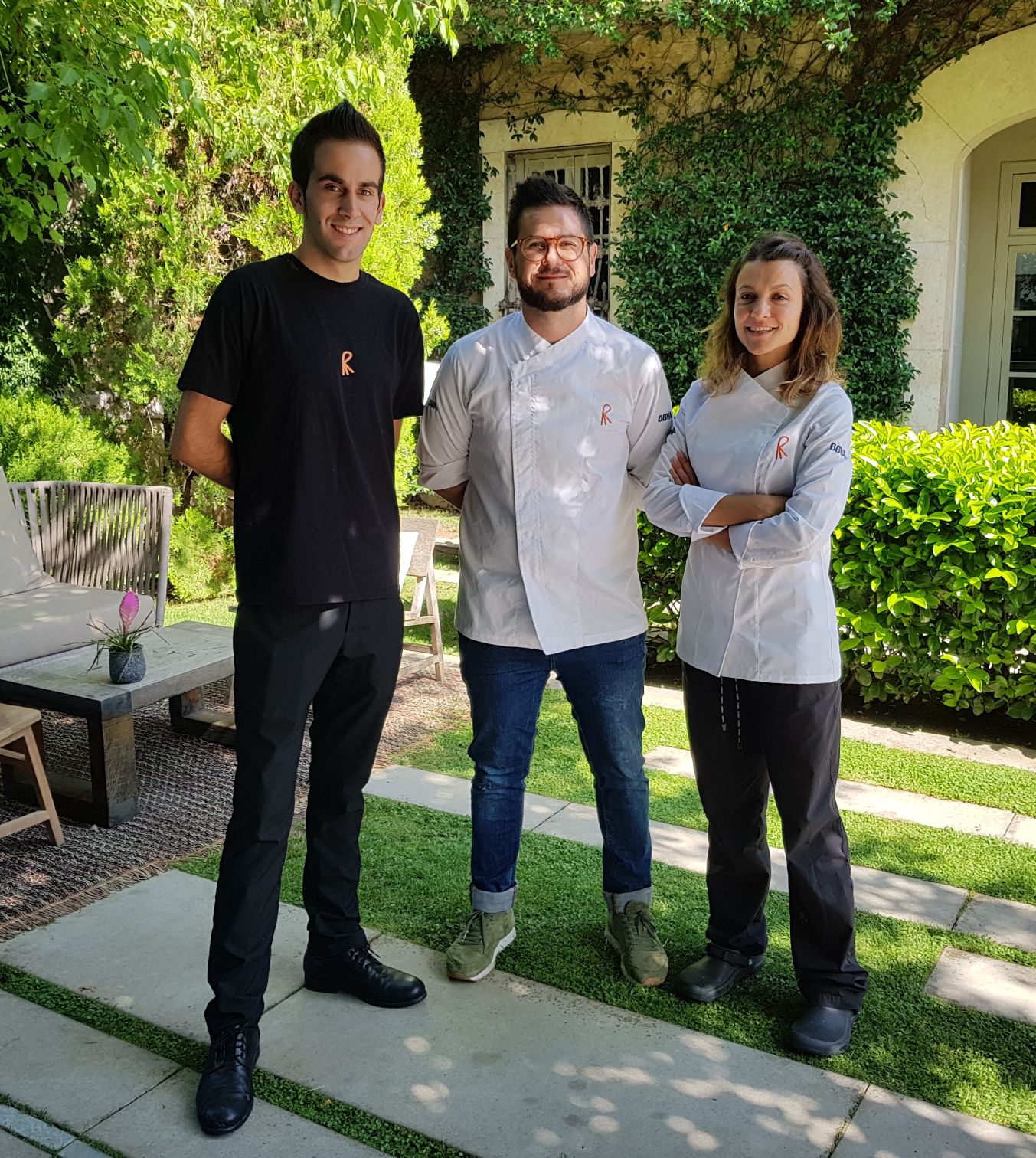 Fabián Blanco, Manuel Agapito and Adriana Filgueiras during their scholarship in El Celler de Can Roca - BBVA
The first to receive the BBVA scholarships in Spain were three Galician students from the CIPF Paseo das Pontes school, who in August concluded their time at the best possible restaurant. Manuel Agapito and Adriana Filgueiras in the kitchens and Fabián Blanco working front of house had the pleasure of four months learning from the best in the world. They took part in the legendary daily lunches served by the eighty-year-old mother of the Roca brothers, and saw more than 7,000 diners pass through the restaurant's doors, anxious to taste the best food of their lives.
"At the start we were a little nervous, but we soon developed a very good relationship with our co-workers," recalls Manuel Agapito. Adrian Filgueiras agrees, and describes her scholarship as "unconscious learning that I'm sure we will make active use of moving forward." Fabián Blanco, a waiter and the youngest of the three, puts it like this: "We've learned to work under pressure, and that will be useful for us in the future."
The trio from Galicia agree that they will miss the relationship with the rest of the restaurant staff even more than the benefits from the training received. Manuel Agapito, the oldest of the three, highlights "the quantity and quality of the theoretical training... It was a surprise," he says. And, as if he was thinking aloud, he concludes his reflections with a phrase that is beginning to be a commonplace among those who have passed through the kitchens of El Celler: "The Rocas and their team are pioneers in many things, among them how they treat people. They make sure you adapt quickly and you soon feel part of the family."