Interview
Updated: 14 March 2019
Q&A with Hector Chacon: We are anticipating client needs as the industry evolves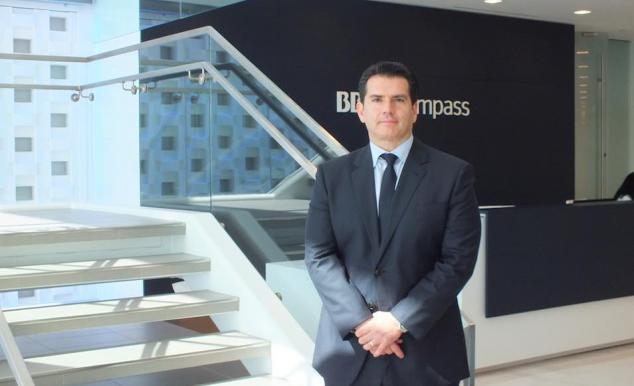 In February, Hector Chacon took the reigns of BBVA Compass' Global Wealth segment, bringing over thirty years of experience in the financial industry, mostly in private and international banking.
It has been a long road for Chacon, holding multiple roles in his professional career - all with BBVA and its legacy banks. He has accumulated a vast amount of knowledge pertaining to the industry, and has a particular style of leadership he proudly talks about in a recent Q&A.
The bank's Global Wealth team boasts a suite of top level products and services tailored to help clients manage their assets, estate, and personal finances, among other areas. The team also provides market insights to help clients make sound investments and fully-informed financial decisions.
Chacon hopes to build on that foundation - and emphasizes staying on top of digital trends - as he looks forward to his new role and what kind of team he wants to build in 2019.
See below for the full Q&A with BBVA Compass Head of Global Wealth Hector Chacon:
Alejandro Ortiz
Can give me a little background on the professional path that brought you to your current position?
Hector Chacon
Well, I'm originally from Mexico and I have my bachelor's degree from Instituto Tecnologico Autonomo de Mexico (ITAM). I also have a master's degree from the Instituto Panamericano de Alta Direccion de Empresas (IPADE) in Mexico City. My bachelor's is very technical in terms of finance and economy, while my master's is more management-related. I wanted to have the best of both of those worlds during my career.
I started my banking career 32 years ago in Mexico with Bancomer. I worked about eight or nine years in the finance area. After that, I was asked to manage a new international operation for Bancomer. That's when I got my experience in international and wealth management banking.
In 1997, while still with Bancomer, management wanted me to direct the entire private banking unit. They wanted me to help further develop that segment and elevate its operations. Then, BBVA bought Bancomer in 2000, and in 2004, I went to Miami to manage the sales team for the Latin America business segment. Then I came to the BBVA US operation in 2005 to oversee the wealth management aspect of the Laredo National Bank acquisition. Our Chief Operating Officer, Rafael Bustillo, later asked me to be the Texas Border CEO of BBVA Compass, which spans from Brownsville, Texas to El Paso, because of my international banking experience. So I managed the Retail, Commercial and Global Wealth teams in that region.
Two years ago, I was asked to manage indirect auto lending. So I was there until about three months ago, when I came back to my roots, managing the BBVA Compass Global Wealth segment.
Alejandro Ortiz
What kind of mentoring did you have and from whom, that helped you along the way to develop your career?
Hector Chacon
A crucial mentorship that I had in my life was the former CFO for Bancomer, Carlos Aguilar Villalobos. He has consistently been recognized as one of the best bankers in Mexico. He worked for BBVA Bancomer for his entire career and was very successful in several facets of the bank.
At one point, he was asked by the Mexican government to take control of failing banks because of his expertise. He was a hard worker and I was in awe of his dedication to his craft.
The best thing about his leadership is he would ask me to take on a lot of things: analyze documents, summarize information and come up with recommendations. That's how he taught you. I was very young and I didn't have a lot of experience. But that's how he gave you that experience.
He always asked me to present in front of the main executive team and give them an analysis of specific financial information. I was only 22. Somebody who does that is a great leader because they show trust in you and give you the space to shine.
Alejandro Ortiz
What are some of the most challenging things about the banking industry?
Hector Chacon
You need to always transform yourself. If you don't do that, the competition is always going to be ahead of you.
Digital transformation and innovating in that space is a challenge. There will always be competitors in the banking industry and companies like Amazon, Google or Facebook could potentially disrupt the market going forward. You need to be very fast in identifying trends in the industry, and staying ahead of the curve.
Also, you have to always manage your reputational risk. If you're not practicing your values as a financial institution, you will lose trust among your client base. When all is said and done, you can never lose sight of your core business. You work for you clients and communities – and speaking to what I said earlier, digital is also a way to enhance those values.
Alejandro Ortiz
What kind of leadership qualities do you think you should have as the new head of a major line of business?
Hector Chacon
Because of my mentor, I learned that you always have to showcase your people. Always try to showcase them. That is what gives them the motivation to work for you, because you reciprocate that hard work with the confidence in them to take on big tasks. Take care of your people.
I was not always like that. I had to learn from a lot of mistakes. You need to master a balance between your own personality and true leadership.
Alejandro Ortiz
What are some digital capabilities your team is working on to stand out among the competition?
Hector Chacon
That's a great question. BBVA Compass is developing many digital capabilities in various lines of business and these products and services are carefully developed with a focus on client experience. We are being creative and we are anticipating client needs as the industry evolves, using data analytics to discover propensities. Everything that a bank does needs to take into account client satisfaction. That should be the foundation of everything you do.
Alejandro Ortiz
Do you plan on visiting certain markets this year and get a feel for the local Global Wealth teams?
Hector Chacon
I have already visited half of our markets within the first few months of being in my new position. I have traveled to large markets like Birmingham, Phoenix and Los Angeles. I also plan on visiting San Antonio, Dallas, Denver and Austin in the next three weeks. Within a month, I will have visited all markets.
For the first few months, I really wanted to connect with our local Global Wealth employees, understand their needs, listen to what is working, but I also want to give them a good idea of the direction I want to take our Global Wealth segment. And it's not just the direction in the next year, but also the next five years. If you don't have a long-term plan, you're doing a disservice to your goals and your team.
Alejandro Ortiz
What is your vision for the Global Wealth team in 2019 and beyond? Any goals you would care to share?
Hector Chacon
The first goal is to get everyone onboard and engaged. Before you can do anything else, you need to have all of your team on board with your strategy. Ensure everyone in your organization believes in what you want to achieve. If you ask people to take it to one more level – if you're a performer, be a super performer; if you're a super performer, be an elite performer – that can be very powerful.
On the business side, we have a lot of clients that simply don't know or have all of the basic solutions we offer so I want to focus on making those clients aware of all of the products and services we have available. I want our teams to work with the clients' cash flows, and help them work on investing their money with our guidance. We have a solid suite of products and services in Global Wealth, but we are not introducing all of them to our clients. By offering these Global solutions to our local clients, we can differentiate ourselves. Some banks might have similar products, but they don't have the Global expertise that we have.