Jordi Roca: "These days I am imagining what kind of scenario awaits us"
One month before confining at home due to the coronavirus pandemic, chef Jordi Roca opened the doors to the latest proposal to come out of the Roca brothers' world. Casa Cacao is one of their most personal projects to date, one that's inspired by the pastry chef's passion for chocolate. A boutique hotel that houses a chocolate workshop, right in the heart of Girona. Obviously, the hotel's debut was tarnished by the events that unfolded soon afterwards. The youngest Roca brother is taking this isolation time to ponder about the problems that was the catering and hospitality industry will be facing after things go back to normal.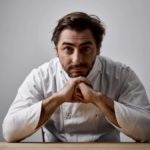 "These days I am imagining what kind of scenario awaits us," says Jordi. The industry will have to face a complex situation. Restaurants will not be able to go back to business-as-usual once the pandemic is over, and future measures and recommendations will have a profound impact on physical spaces and routines. The chef and his brothers have built a business conglomerate around their renowned restaurant El Celler de Can Roca. Now they are studying different solutions to safeguard both their collaborators' jobs and their customers' well-being. A situation that will require us "to adapt our processes to be able to resume operations under the new conditions that we will have to face, thinking about how the dynamics will be in our Rocambolesc parlors or in Casa Cacao, the hotel we just opened," he stresses.
Although the world has come to a sudden stop, Jordi's inquisitive mind keeps working on new desserts to continue surprising guests at El Celler. "Having a routine helps a lot, and especially cooking at home with Ale (his wife and head of the Rocambolesc ice cream parlors)." Time to devote to my family during a very special stage of our life: "I'm enjoying my family very much: my little girl started walking a few days ago and being there with her during the process is a blessing."
During these weeks of confinement and like many these days, he has taken the opportunity to do some research. "I find that work is my main source of inspiration, but I'm taking this opportunity to study in depth some of the books published by peers that I hadn't had time to read before." The pastry chef is also devoting some time to share a few of these recipes with his social media followers. Jordi recently posted his 'cholocate soufflé' challenge. Hundreds have followed his instructions... with mixed results.
The Girona-born chef believes the lockdown will be a turning point. "I am living this with resignation and a feeling of contained energy. I'm eager to meet again with the team and get back to work were we left off, but under this new light and trying new formulas," he concludes.