The USS Constitution is back to her former glory. After a restoration process that took two years and $12 million worth of copper cladding, wooden plank repair and gun carrier restoration, among other refurbishments, the oldest commissioned floating naval vessel first launched in 1797 was put back into Boston Harbor this week.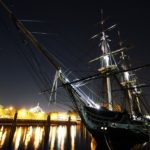 Talk about a huge investment.
In honor of "Old Ironsides," nicknamed when a British soldier shouted "Her sides are made of iron"  after cannonballs bounced off of her during the War of 1812, here's a slew of investment options BBVA Compass Investment Solutions can offer to help with your investments, in any financial stage, to make sure whatever life throws your way can bounce off your iron-clad plan.
Full service investments: Want to plan for your personal retirement? Do you need to save for college? If you're trying to connect the dots between goals and resources, our financial advisors can fire away with solutions designed to fit your investment needs and objectives.
Self-directed investments: If you want to roll up your sleeves and man the deck yourself, BBVA Compass Investment Solutions offers online account opening. Afterwards, you can start investing in equities, exchange-traded funds (ETFs), mutual funds and more. Open an account now!
International investments: There's nothing wrong with following your compass and setting sail to settle outside of the country. That's why BBVA Compass offers solutions that help you set up cash accounts or margin accounts.
Need more information before hopping aboard? Click here.
Here's to smooth waters ahead.
---
Securities and Investment products offered through BBVA Compass Investment Solutions, a division of BBVA Securities Inc., member FINRA and SIPC and an affiliate of Compass Bank.
Insurance products are offered through BBVA Compass Insurance Agency, Inc., an affiliate of Compass Bank
Securities and Insurance Products:
ARE NOT DEPOSITS
ARE NOT FDIC INSURED
ARE NOT BANK GUARANTEED
MAY LOSE VALUE
ARE NOT INSURED BY ANY FEDERAL GOVERNMENT AGENCY