For the first time, the King and Queen of Spain visited Ciudad BBVA, the Group's corporate headquarters in Madrid, to unveil a commemorative plaque on the main building, La Vela. The Chairman & CEO of BBVA, Francisco González, thanked King Felipe and Queen Letizia for their visit and explained how BBVA's new headquarters in Madrid is contributing to the Group's transformation.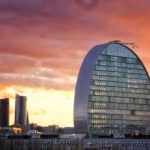 Francisco González pointed out that Ciudad BBVA allows the Group to make far-reaching changes in the way we work, by putting technology at the service of people. Values such as our global reach, innovation, sustainability, simplicity and transparency are reflected in each one of the features that make up BBVA's new corporate headquarters. The complex is designed to foment collaboration and the free exchange of knowledge among all the employees, as it creates opens spaces that discourages the formation of isolated groups and is conducive to agile decision-making. BBVA is implementing this way of working throughout the Group.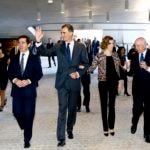 Ciudad BBVA was designed by Herzog & De Meuron. The Swiss architects have designed and supervised the construction of iconic buildings such as the TATE Modern in London or the National Stadium of Beijing, which it designed for the 2008 Olympic Games. In 2001, it obtained the prestigious Pritzker Award, the most coveted accolade in the field of architecture.
BBVA's new headquarters in Madrid were built according to the highest sustainability standards, and it has received the gold certification from LEED (Leadership in Energy and Environmental Design). The complex can accommodate up to 6,000 employees in 823,490 square feet distributed between greenspaces and three types of buildings: a tower called La Vela (Flagship), seven three-story buildings that include workstations, dining areas and an auditorium and La Isla, a building which houses a healthcare center, a sports facility and a daycare center.
"Ciudad BBVA plays a key role in BBVA's transformation into the best bank of the digital age", said Francisco González.
The King and Queen of Spain unveiled the commemorative plaque and were the first to sign the digital visitor's book. Francisco González thanked them for their visit on behalf of all BBVA's employees and the Board of Directors.
This visit forms part of an event organized by the Leading Brands of Spain Forum, at which it presented the sixth edition of the Spain Brand Honorary Ambassadors awards.