'Learning Together' reaches a new milestone: 500 million views in just 18 months
'Learning Together,' the educational program BBVA delivers in collaboration with Spanish newspaper 'El País' and the Santillana Foundation, continues to build on its success. The initiative was kicked-off in January 2018 and aims to promote education, positioning it as one of the basic cornerstones of our society.  In only 18 months of operation, this innovative educational program, which has hosted more than 120 guest experts representing a diverse range of fields, has reached 500 million views.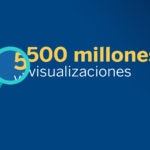 Societal interest in education together with advice delivered by leading professionals has turned 'Learning Together' into one of the most innovative and successful educational programs on the Internet. BBVA created this platform, which uses informational videos, to disseminate the knowledge and experiences of hundreds of educational specialists.
A sampling of the topics covered in recent months include the use of technology and the disruption it causes, culture as a knowledge tool, and the importance of addressing social issues such as sustainability and climate change.
The 'Learning Together' social community has also logged some landmark statistics. Its Facebook profile has exceeded one million followers, and its videos have accumulated more than eight million interactions. The program's Twitter and YouTube accounts, with more than 40,000 and 530,000 followers respectively, also attest to the strength of the initiative. Instagram, the most recent social networking site to host the program's content, already exceeds 50,000 followers in only four months since the account was activated.
Totaling followers in all its social network platforms, 'Learning Together' already has a community of more than one and half million followers.
Another fact worth mentioning: the level of social media interactions (comments, shares, likes, and mentions) generated by the 'Living Together' content has surpassed 8 million. This figure, which equates to more than 60,000 interactions on average per video, is a key indicator of the emotional connection we make with our viewers.
 "Conflict Resolution", the third challenge of 'Learning Together'
A Coruña, Toledo, Malaga and Barcelona are the four cities where BBVA has introduced its third educational challenge: 'Conflict Resolution.' This new format is dedicated to the prevention of bullying in the classroom – mainly at the middle school and high school levels – and provides parents, students, and teachers with tools to help them manage conflict.
The course is free, practical, and available online. It consists of 14 lessons, supplementary guides for each exercise, and downloadable materials that stress conflict prevention and feature conflict resolution techniques, such as dialog, listening, and empathy. These materials will help remedy conflict situations like bullying in schools, social exclusion, and/or the use of social media to spread rumors.
Totaling followers in all its social network platforms, 'Learning Together' already has a community of more than one and half million followers.
The 2019 top 5 from 'Learning Together'
Since its launch in January 2018, the 'Learning Together' most watched videos have been those featuring Victor Küppers, Eva Millet, Irene Villa, Elsa Punset, Kiran Bir Sethi, and Catherine L'Ecuyer. These five videos went viral, exceeding 100 million views.
So far this year, the 44 videos that have been published featuring experts from a variety of subject domains have also generated a positive furor. Spanish basketball player, Ricky Rubio; UNICEF Ambassador, Muzzon Almellehan; and astronaut Chris Hadfield are only some of the profiles recently featured on the program.
2)  Christian Gálvez "Da Vinci: You don't have to be a genius to be brilliant" with 6.9 million views