BBVA's record profit for 2022 was warmly received by the market. Analysts have raised their valuations of the bank following the results release, given the strength of the figures and the bank's guidance for 2023. During the February 1, 2023 trading day, the bank's share price climbed 4.7%.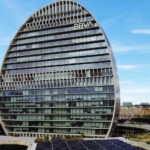 In 2022, BBVA posted net attributable profit of €6.42 billion, the highest earnings in its history. This figure was driven by a strong increase in revenues, with double-digit growth in lending (+13.3%). The bank explained the forward strides it has achieved in its strategy over the year, such as acquiring 11.2 million new customers and channeling €50 billion in sustainable finance.
BBVA also announced that it will earmark €3 billion, or 50 cents per share, equivalent to a payout of 47%, to shareholder distributions. The bank intends to raise the cash dividend for the year to 43 euro cents gross per share (the highest in 14 years and 39% higher than in 2021). After paying 12 euro cents per share in October, at the next general meeting BBVA will submit to shareholders' approval a final dividend of 31 euro cents per share, scheduled to be paid in April this year. As a further component of the €3 billion allocated to shareholder distributions, the bank will set in motion a new share buyback program worth €422 million.
Analysts took a positive view of the results and of the outlook announced by the bank for the current year. Many market observers underscored the strength of the Group's earnings in Mexico—which outperformed expectations by a wide margin—and the recovery of revenue in Spain.
For 2023, BBVA said that it expects the Group's recurring revenue to grow by around 25% in constant euros while keeping its strategic focus on the more profitable segments. BBVA believes costs will rise in line with average inflation in the countries where it has a presence and the jaws ratio will remain positive. Cost of risk will remain under control at around 100 basis points.
Analysts take the view that this outlook involves a strong upward trend in earnings over the coming years, especially in net interest income in Mexico–which could grow at around 15%–with cost of risk for the Group as a whole remaining contained. The figures are prompting analysts to revise their target share prices for BBVA upward.
The bank's fully loaded CET1 capital ratio of 12.61% was also higher than expected by the consensus and remains above the bank's target range (11.5% -12.0%).
On February 1, the trading day on which the results were made public, BBVA shares rose by 4.7%, compared to 0.77% for the Stoxx index of European banks.