Once upon a time, not so long ago, sending money was a tedious, often time-consuming task. Now, with the advent of the smartphone and mobile banking apps, sending money doesn't need to be time consuming or burdensome. With the BBVA Compass Mobile Banking App sending money is easier than ever.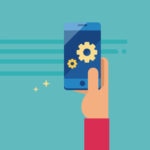 The BBVA Compass Mobile Banking App, with a multitude of functionality, features a patent-pending Payments & Transfers functionality which gives customers the ability to schedule a payment or transfer directly from their phone fast. Among the features of Payments & Transfers are the ability to move money between accounts at BBVA Compass or another financial institution, transfer money to other people, view transaction activity, send international money transfers, schedule payments and transfers and much more.
To use Payments & Transfers, customers go to the main menu, select Payments & Transfers, choose the account you'll be sending money from and then choose the destination account. Then, just enter the amount, the frequency of transfer, the date or date range the money should be sent, review the details and then submit. You can also review the scheduled transactions via Transaction Activity, and cancel any that have not yet been paid. With Manage Destination Accounts, you can add or delete destination accounts. With advanced functionalities, the BBVA Compass Mobile Banking App gives you the ability to bank when, where and however you want.
Learn more about the award-winning BBVA Compass Mobile Banking App by clicking on the video below, and for more on the BBVA Compass Mobile Banking App, click here.