Today is Cyber Monday, which means many people will be spending time online to find the perfect gift for a loved one, or maybe themselves. When paying for those gifts, in many cases credit cards will be front and center. If you're shopping on Cyber Monday and using a credit card, you can worry a little less about things like reaching your credit limit or potential fraud with BBVA Compass Mobile Banking alerts.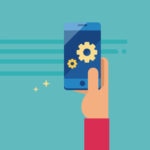 BBVA Compass Mobile Banking alerts for credit cards lets you sign up to receive a variety of account-related  notifications, like when you've reached your credit limit or when your balance is greater than a determined amount. It's easy to do, too.
From the main menu, simply go to Alerts, choose your credit card account, choose how you want the alert delivered, and then swipe to turn on the alerts you want. With BBVA Compass Mobile Banking, banking can be easy.
Learn more about the award-winning BBVA Compass Mobile Banking App by clicking on the video below, and for more on the BBVA Compass Mobile Banking App, click here.