The BBVA Compass Mobile Banking App is stacked with features and functionalities to make using the bank in your pocket easier, safer and more convenient than ever. But, using the app can be easier when paired with the language in which you're most comfortable.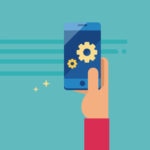 BBVA Compass Mobile Banking gives customers the ability to choose between using the app in English or Spanish, providing options for customers to bank in whichever language is most comfortable for  them. Customers simply need to go to settings on the main menu, tap language and choose their most preferred, English or Español .
Learn more about the award-winning BBVA Compass Mobile Banking App by clicking on the video below, and for more on the BBVA Compass Mobile Banking App, click here.