Peer-to-peer payments, or P2P, have become a popular way of quickly and easily paying family and friends using a mobile device or home computer.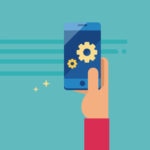 P2P payments link individual bank accounts and when a transaction occurs, the application records the transaction and draws the money from the sender's account and adds it to the receiver's account. The receiver can either leave the money in their P2P account, or transfer it to their bank account.
BBVA Compass Mobile Banking features P2P service Popmoney®. To use Popmoney in the bank's mobile app, users simply go to Payments & Transfers, select the account to send money from, select Popmoney, choose the recipients email address or mobile number, enter the amount, select a send date and then hit send.
Learn more about the award-winning BBVA Compass Mobile Banking App by clicking on the video below, and for more on the BBVA Compass Mobile Banking App, click here.