More than 13 million people have received financial education thanks to BBVA since 2008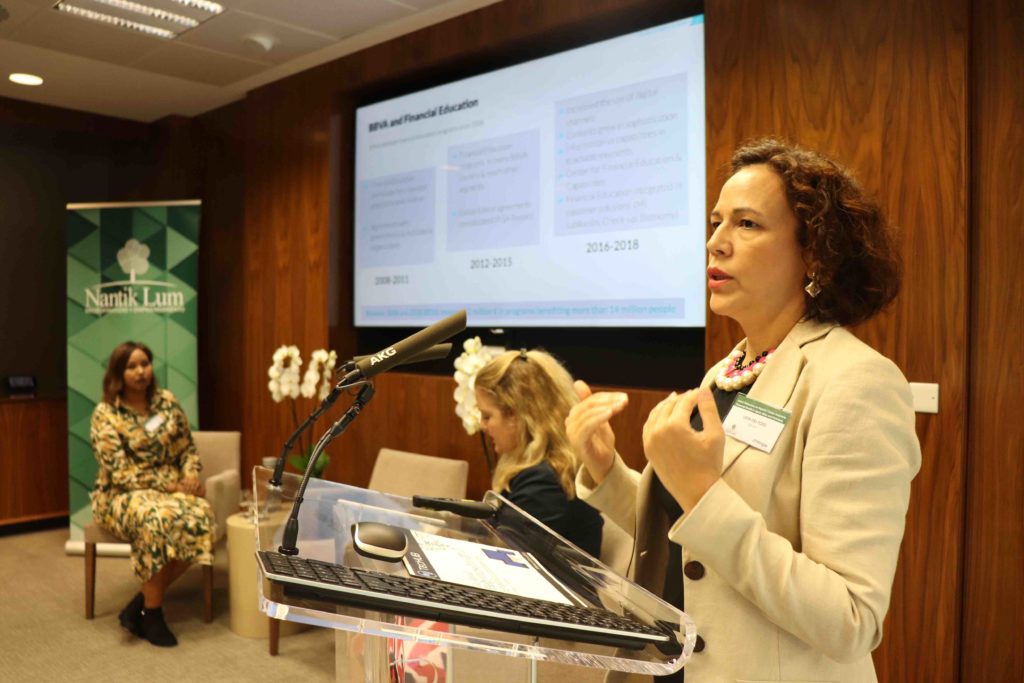 BBVA completed its agenda of activities to commemorate "Financial Education Week", held from October 7 to 11, taking part in the event `Financial Health in Spain : How to Improve It', organized by Nantik Lum Foundation and JP Morgan. Speaking at the event, Lidia del Pozo, Director of Community Investment Programs BBVA, explained how BBVA's strategy has evolved in the field of financial education, noting its profound relationship with financial health and emphasizing "the more than 13 million people have received financial education through BBVA since 2008." and that "today, BBVA develops these programs across all population segments, primarily through digital channels."
"BBVA's approach when providing financial skill-building programs has evolved over the years to improve the financial health of the population," explained Lidia del Pozo during the round table 'Best practices in financial health'.  On a timeline basis, "in its beginnings, BBVA's activity in the world of financial education focused on developing workshops for the unbanked and for children, as well as entering into partnership agreements with governments and multilateral organizations."
Over the years, the entity has been crystalizing agreements such as the one it signed with the Organization for Economic Cooperation and Development (OECD) to provide financial support to the Pisa Financial Literacy Assessment and has been developing programs aimed at catering to more segments of the population. "In the countries where BBVA operates, we identified several challenges in relation to population's financial education level and that is why we started offering specific programs," explained Lidia del Pozo.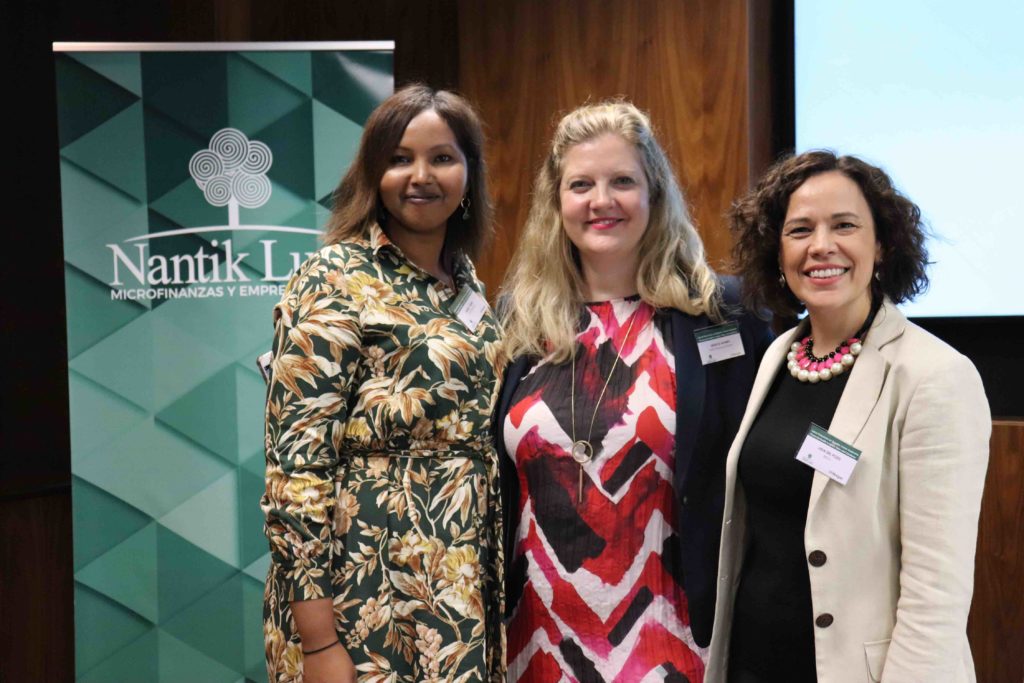 Lidia del Pozo with Muna Yassin (left), of Fair Finance and Jessica Alfaro (center), of Nantik Lum Foundation / ©Nantik Lum Foundation
"Financial health means control and freedom"
Digitization and diversification
BBVA currently develops its financial education promotion initiatives with a clear focus on digitization, explained Lidia del Pozo. "Digital transformation brings many challenges to the financial world. Today we can't just teach financial skills, we need to teach digital financial education". Between 2016 and 2018, BBVA expedited this shift with a progressive increase in the use of digital channels and the development of more and more cutting-edge contents. It also launched the BBVA Center for Financial Education and Capabilities. "However, beyond the evolution of the 'what', what makes the difference is the 'how'. It is not just about giving information, but about harnessing the learning moments that arise at different stages of life."
In this sense, BBVA has been rolling out a series of digital tools on its mobile application – including Bconomy, Programa tu Cuenta and Future Planner – to help people take control over their finances and improve their financial health. "It is a known fact that the best savers are those who automatically save early in the month." Features such as the savings rules of Programa tu Cuenta (Account Scheduler), allow to turn "a task such as saving, which we all struggle with because we don't get any immediate satisfaction from it, it into a fast and simple process". These digital tools and solutions are made possible by the revolution that the arrival of 'Big Data' and artificial intelligence has unleashed in the financial world. "The use of data brings us closer to users because it allows us to know them in an objective manner and offer them the tailored support they need to achieve their goals."
Lessons Learned
Lidia del Pozo explained that all the insights that BBVA has learned along the way, can be summed up in three principles: financial education is more effective when offered at the right time for learning, it is everyone's task and it is the key driver of financial health.
For her part, Muna Yassin explained how Fair Finance works in the United Kingdom to improve people's financial skills: "By financial skills we mean not just knowing how to, but having the will, confidence and opportunity to act." Yassin agreed with Lidia del Pozo in pointing out the relevance of data processing and the need to offer personalized advice to people, "of making them feel unique." She also concurred on the importance of measuring results and concluded pointing out that "financial health is everyone's responsibility."
BBVA continues to work to help improve people's financial health with programs that target different segments of the population, diagnosing of each situation, offering personalized guidance, designing specific solutions and measuring results to verify process effectiveness. And the main purpose of this work, as Lidia del Pozo explained, is to continue improving people's financial health and with it, two essential factors in people's lives.  "Financial health means control and freedom; controlling your finances one can face the financial problems that arise in their lifetime and freedom to manage your savings so that they help you make your dreams come true."