Neil Adger, Ian Burton and Karen O'Brien, recognized with Frontiers of Knowledge Award for incorporating the social dimension to climate change
The BBVA Foundation distinguishes Neil Adger, Ian Burton and Karen O'Brien with a with a Frontiers of Knowledge Award in the Climate Change category for the contributions of their studies on social adaptation to climate change. This social perspective transforms a paradigm of research and action that was previously limited to the curbing of greenhouse gas emissions
In the thirteenth edition of the awards, the jury recognized the contribution of Social Science in the fight against the impact of climate change awarding 3 researchers for their pioneering studies into the link between social and cultural conditions and vulnerability to climate change, as well as the ability to adapt to it. Neil Adger, Ian Burton y Karen O'Brien's contributions are, according to Miquel Canals, Director of the Department of Earth and Ocean Dynamics at the University of Barcelona (Spain) and a member of the committee, a "window onto the future, one where the global effects of climate change will undoubtedly be worse."
Adaptation to climate change: an essential perspective to understand its human dimension
Since the mid-1990s, Adger, Burton and O'Brien have been leading the efforts of one of Work Groups of the IPCC (Intergovernmental Panel on Climate Change), focused precisely on social adaptation to climate change. To cope with the impact of an already irreversible climate crisis, the awardees emphasize "the importance of interactions between environmental change and globalization," and the need to "incorporate the cultural dimension" to the work of adaptation to climate change impacts that by now cannot be stopped.
The three researchers have collaborated on numerous occasions. Their work has been instrumental in incorporating the social perspective into the fight against climate change. For Miquel Canals, "the awardees document the human dimension of climate change in all its magnitude, ranging across health, well-being, inequality, the vulnerability of whole nations, demographic changes, migrations… all major issues of our time whose connection to climate change we habitually ignore."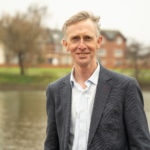 Neil Adger - FBBVA
Neil Adger (Ballymena, Northern Ireland, United Kingdom, 1964) holds an MA in Economics from the University of Edinburgh and an MSc in Agricultural Economics from the University of London. According to this prolific author and advisor of different institutions such as the 'Basque Centre for Climate change', besides natural spaces, adaptation strategies should also focus on cities, because "the most dominant flow of migrants is from rural areas to cities, and these flows are being amplified by climate change." Speaking after learning about the jury's decision, speaking to the BBVA Foundation, Adger said that "although migrants rarely point explicitly to climate change as among the reasons for their move, they do cite the deterioration of traditional livelihoods."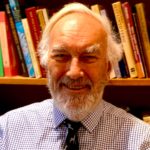 Ian Burton - FBBVA
Ian Burton (Derby, United Kingdom, 1935), is Emeritus Professor in the Department of Geography at the University of Toronto (Canada), and holds a PhD in Geography from the University of Chicago (United States). He has worked on three Assessment Reports of the IPCC, as well as on the IPCC's Special Report on Managing the Risks of Extreme Events and Disasters, and taken on consulting assignments for international bodies such as UNESCO.
Burton alludes here to evidence in the latest IPCC reports to the effect that climate change is advancing at very different rates from those initially projected and that, in principle, the idea of adaptation wasn't generally accepted at first. After learning about the award, Burton explained  how those calling most urgently for mitigation measures - for the reduction of greenhouse gas emissions - thought it counterproductive to talk of adaptation. "They argued that if you could mitigate there would be no need to adapt, but I advocated adaptation based on the findings of my research."
Karen O'Brien - FBBVA
Karen O'Brien (Aachen, Germany, 1963), Professor of Human Geography at the University of Oslo, is likewise concerned about the impacts of climate change and globalization on vulnerable and exposed populations. To explain the concept of adaptation in this context, O'Brien resorts to a metaphorical analogy with the field of photography: "In the same way that double exposure in photography refers to two images that are overlain and create a blurry image, with this concept we express how the processes of globalization and climate change create uneven outcomes, in other words winners and losers. The two processes not only overlap but also create feedback."
O'Brien's research also draws from the adaptation concept coined by Burton from a psychosocial and cultural standpoint, and talks of three spheres of adaptation to complete the transformation that climate change demands: practical, political and personal, three spheres that also act upon each other.
The three laureates agree on that research and adaptation and mitigation actions required urgent responses based on the best knowledge. As Burton remarks, "we should never underestimate the importance and the urgency of climate change." However, although "we are not doing enough in either mitigation or sustainable adaptation," he also declares himself cautiously hopeful, in light of the youth protest movement which reflects "growing population awareness as people suffer or hear about others suffering wildfires, extreme storms and droughts in other parts of the world."