Onur Genç: "BBVA's priorities in this crisis are to protect everyone's health and to continue serving our customers"
Egon Zehnder, a global consulting firm, is holding a round of digital meetings with CEOs of banks around the world to hear about their strategies to navigate the COVID-19 crisis and their insights into unprecedented situation. During a meeting held on April 4, BBVA CEO Onur Genç detailed the Group's priorities in the face of the health emergency caused by COVID-19: safeguarding customer and employee health and continuing to deliver its services and supporting customers.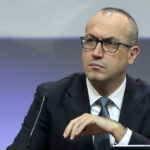 In the last two months, Egon Zehnder has invited top executives from a leading companies to join its virtual talks and share their experiences in the current situation. On April 4, at the initiative of Unicredit CEO Jean Pierre Mustier, Egon Zehnder brought together more than 40 executives from global banks, including BBVA's CEO, to take part in a digital meeting.
As Onur Genç explained, being a global bank, with a footprint spanning Europe, America and Asia, BBVA is facing COVID-19 in different phases depending on the region. "The most important lesson we've learned in the past three weeks fighting against COVID-19 is the need to anticipate. In crisis scenarios, measures that at first may seem excessive, end up turning out to be insufficient," he said.
"The top priority is safeguarding the health of its employees and their loved ones, of customers and of society in general"
Onur Genç stated that he's managing the crisis following the same approach he adopts when managing a business. "You need business indicators (KPIs) and numbers to be able to monitor the situation. It is also very important to keep a calm, positive and frequent communication," he said.
Onur Genç also emphasized the Group's priorities in exceptional and difficult situations as the currently unraveling one. He underscored that the top priority is safeguarding the health of its employees and their loved ones, of customers and of society in general. "This is the first and most essential thing," he said.
Secondly, he noted the need to keep the bank running delivering services and support to customers: "We are an essential service. We need to make sure the bank keeps running with absolute normality, "he said. Thanks to its digital capabilities and the heightened focus on the promotion on digital channel and the efforts from its remote manager team,  the bank has been able to significantly reduce staffing levels at branches, with 72 percent of the branch network working remotely from home. Also, 95 percent of its core services workforce is currently teleworking.
Next stage: recovery
"Besides managing the crisis, companies need to think in the long term," explained Genç. A crucial issue in this regard will be returning to normality, which will require paying special attention to four key aspects: the gradual return of employees to branches and work centers; the health and safety protocols that will need to be implemented; the reopening of employee services (catering services, gyms, medical services ...) and other topics such as professional travel protocols or meetings. "We will go back to normal very gradually and it will take us several months," he said.