Onur Genç represents BBVA's global nature almost better than anyone else: a Turkish national working for a Spanish bank with global operations and aspirations. Having lived in 5 different countries, and having worked for BBVA in Turkey and the United States, Spain will become his new home next year, when he's set to take over as BBVA Group's CEO.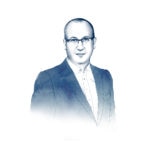 His young age (44) and his absolute conviction that values are the linchpin of any company, couldn't be more aligned with the meaning of his name in Turkish: Honor Young. His leadership style and charisma have earned him great respect and admiration from the teams he has worked with.
A thorough decision maker, he devotes whatever time is necessary to listen to each  team member. His questions are always straightforward, he considers all key details and always asks for the decision and more importantly the action. Once he's certain about the impact and risks, he lets everybody know that it's time to act with a straightforward "let's go!" He has an extraordinary work ethic and expects everyone on his team to give their best, but he also worries about people: "I'm ready to do everything I can to help those who prove they're willing to progress," he says. Furthermore, he's profoundly convinced that strength lies within the team.
He's married and the father of 14-year old twins. He is an avid sports fan, enjoys traveling and reading, especially about science, economics and history. He worked at McKinsey & Company for 13 years. At a very young age of 34 he became senior partner and was appointed manager of the Turkish office. He joined Garanti – BBVA's Turkish franchise – in 2012, as executive vice president, head of Retail and Private Banking. Later that same year he was also named head of Garanti Payment Systems. In 2015 he became Garanti's 'number two man,' and assumed certain wholesale banking responsibilities as well. In January 2017 he was named CEO of BBVA's U.S. regional bank (BBVA Compass), and country manager of the bank's operations there.