"It's no longer about products, but about helping customers with their financial lives"
"It's no longer about products, but about helping customers with their financial lives"
BBVA's Global Head of Customer Solutions, Derek White, explained this morning that "It's not longer about products, but about helping customers with their financial lives." White participated in MoneyConf's panel "Competition makes you smarter: Customer Centric banking," where he exchanged ideas with Zopa CEO Jaidev Janardana and moderator Andrea Rexer, finance editor at Süddeutsche Zeitung.
In an auditorium filled with entrepreneurs, startups and financial executives, Derek White shared a real example of how BBVA is addressing this new reality of offering solutions for its customers. "Traditional banks would offer a mortgage. Instead, we offer a comprehensive solution like our BBVA Valora service in Spain, where customers can find out if they can afford a specific home, and get an accurate appraisal of potential house purchases prior to starting the bidding process," he said.
He underscored that customers have invited financial institutions to participate in non-financial problems because they are demanding new ways to interact with money, and that requires creating "beautiful, intuitive and engaging experiences. Clients are learning to interact with their money in digital. It can be intimidating."
Transparency is key in emerging markets
In order to achieve this digital mindset, White pointed to the need to have a real digital corporate culture, developed organically. "Our most digital employees are on the network. They are fluent in digital. The internal collaboration within the Group is a key element so they can later help our customers learn how to use our solutions," he said.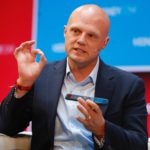 BBVA's Global Head of Customer Solutions, Derek White.
White reminded the audience that trust continues to be the cornerstone of the relationship between customers and their financial providers, together with time and transparency. In this regard, he made the distinction between mature markets (and mature products) and developing markets. "Mature markets have a higher level of insight. Customers value their time, but it's not just about speed, but about helping them make decisions," he noted. As for emerging markets, here the key is transparency, he added. "Customers want a clear solution and we need to teach them how and find the channels to engage them. Time and transparency are really helping us build trust," he said.
Collaboration, collaboration, collaboration
During MoneyConf, which is being held in Madrid today and tomorrow, Derek White also said that BBVA recently announced the launch of eight of the bank's APIs in Spain so fintech businesses could – with the customer's consent, of course – build new products and services to add value to their lives by using their data in new ways, in what represents the first steps of the open banking era.
In Derek's opinion, artificial intelligence will be another big trend that will change how people interact with money through solutions like the MIA chatbot service, developed by Garanti in Turkey, which allows customers to have real conversations with the mobile device of their choice and get things done then and there.
White added that these are products developed on the back of technology – both above the glass (how our customers and clients interact with us) and below the glass (the systems that allow the services to operate). It is the technology we have developed and brought into action that enables us to build the future banking models we are bringing into service.
The Global Head of Customer Solutions explained to the audience that BBVA doesn't see fintech startups as a threat. Instead, the Group is working with them in healthy competition and partnering with them. "Also, our creation model, which is very human-centered, helps us to work and think as a startup, and we combine the startup mindset with the bank talent and then, magic happens."
Asked about what the future will hold for financial services, White simply said that the future is already here. First, it was the move to mobile. Now, he said, "We are moving toward an open environment, of collaboration, open APIs, and with a hands-free approach."  He predicted that by 2020, 30% of Google searches will be hands-free.