José Ángel Sánchez Asiaín, who stood out as a key figure in banking modernization, passed away on December 31 in Madrid at the age of 87.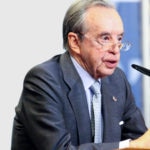 Born in Baracaldo, Vizcaya, on March 1, 1929, Sánchez Asiaín obtained a Business Degree from the Universidad Comercial de Deusto, and a Doctor's Degree in Economics from Universidad Central de Madrid (currently, Universidad Complutense). He was granted an honorary doctorate by Universidad del País Vasco, Universidad Miguel Hernández de Elche, and Universidad de Valladolid.
In 1954 he joined the Banco de Bilbao's Studies Service, and in 1959 was named Head of the Area. His professional trajectory at the Banco de Bilbao led him to hold a number of positions of increasing responsibility, until he was named Chairman of the Board of Directors in 1974; he held this position until the bank's merger with Banco de Vizcaya in 1988. As a result of this corporate transaction, Sánchez Asiaín took over the Presidency of Banco Bilbao Vizcaya until 1990. Among his great contributions were his focus on modernizing payment methods and corporate transactions, which were key elements in the development of the Spanish banking sector.
Upon hearing of his passing, Francisco González, the Group Executive Chairman of BBVA, described him as a "point of reference in the multiple facets of its activity." "His cutting-edge vision of the banking industry, and his solid belief in the fundamental role of values are now permanent contribution to the BBVA's culture, and had a decisive impact on the modernization of the Spanish banking sector. "In the name of the BBVA Group and the BBVA Foundation, I would like to express my sincerest condolences at the loss of such a key figure in Spanish society," the Group's President stated.
His commitment to boosting innovation, technology modernization, and scientific know-how were ever-present throughout his intense work at the service of society, encompassing numerous publications on topics related to economy, finance, and culture. He was a fellow of the Royal History Academy, the Royal Academy of Moral and Political Sciences, the Royal Academy of Economics, as well as an honorary fellow of the San Fernando Royal Academy of Fine Arts. His role in the Foundations was especially noteworthy, and encompassed many different facets. He was the Honorary President of the BBVA Foundation, and Patron of Honor of the Prado Museum, after presiding the Museum's Foundation from 1990-1993. He was the President and key figure behind la Fundación Cotec para la Innovación Tecnológica from 1990-2012, and President of the Fundación de Ayuda contra la Drogadicción from 2000-2015.