A platform offering guidance to students wins the Blue BBVA Challenge
3,000 onsite and online participants, 23 countries, and the determination to change the reality that surrounds us; those were the credentials of the second edition of Blue BBVA Challenge, which focused on finding solutions for tomorrow's cities.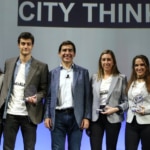 BBVA held the closing event of Blue BBVA Challenge, which was attended by BBVA CEO Carlos Torres Vila and a demanding jury that paid attention to everything that was taking place on the stage of BBVA's headquarters. The jury's members – Paul Tobin, Head of Communication of BBVA; Jordi Roca, "postrero (pastry chef)", as he likes to call himself, one of the owners of El Celler de Can Roca and BBVA ambassador; Amaia Gil, Deputy Director General of the Office of Social Innovation of the Madrid City Council; Mariano Torrecilla, founder of Loogic Ventures; and Gonzalo Rodríguez, Head of Digital Transformation BBVA Spain – had a really hard time choosing the winner.
The Finalist projects – all of them innovative, with a touch of originality that made them even more appealing – were presented live before the jury and the audience, The projects included, urban vegetable gardens, capable of reusing water and organic waste; an app to report anti-social behavior; a prototype capable of turning kinetic energy of people's footsteps into electricity; a learning method to make the most of the time we otherwise waste in the city; street furniture capable of providing power and wi-fi, and a platform that connects students.
Ripe Projects
Seeing these young entrepreneurs on the stage of BBVA's headquarters, it is hard to imagine that, until November 26 of last year their projects were just ideas. It was that day, during the celebration of the Challenge Day at Impact Hub Madrid – which was attended by 250 young entrepreneurs – when these sparks of ingenuity became viable entrepreneurship projects, which managed to be chosen as finalists of the program. Since then and until their presentation in front of the audience during the big final, each team has worked hard with support from a mentor with a young entrepreneur profile, and an influencer, who has shared their progress in the social media. The results have been more than positive: "We're very proud of this training program that teaches young people how to take on a project", said Carlos Torres.
The project that was finally selected – City Thinkers – solves, as the jury noted, a real problem while being sustainable. City Thinkers, is a platform that connects students looking for guidance when deciding which college degree to pursue, applying for an Erasmus scholarship, looking for internship programs, etc. The members of the winning team will travel to Berlin to take part in Impact Hub's Unlikely Allies, where they will learn about the entrepreneur ecosystem of one of the most restless cities in Europe.